Doodle3D WiFi-Box
COD :
RD-DOODLE3D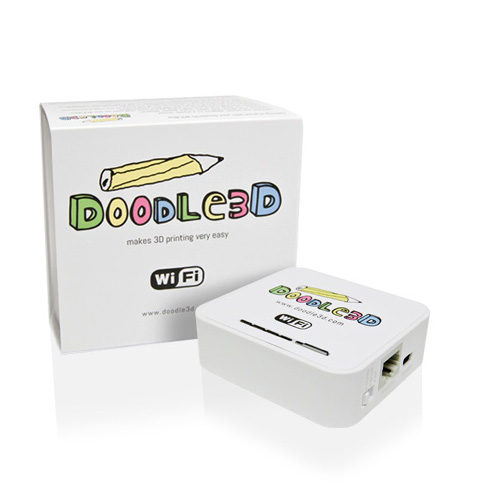 Chiedi informazioni per questo prodotto (Ask a question about this product)
---
Dim lights Embed Embed this video on your site
The Doodle3D app is a very simple drawing app running on the Doodle3D WiFi-Box. With Doodle3D you can draw something for a 3D-printer without knowledge of complicated 3D modelling programs. Doodle3D introduces you to the world of 3D printing!
Make a drawing on your laptop, tablet or smartphone using the easy Doodle3D sketching app in your browser. It transforms your 2D drawing into a 3D model.
When finished drawing just press 'Print'. Your drawing is sent wirelessly to the WiFi-Box which controls your 3D-printer.
After just a few minutes the 3D-printer is finished. Congratulations! You can now hold your 3D printed design in your hands!
Questions? Just e-mail us at Questo indirizzo e-mail è protetto dallo spam bot. Abilita Javascript per vederlo.
How doest it work?
Simply connect the 3D-printer (see the list of supported printers below) to the USB port of the Doodle3D WiFi-Box, connect to the WiFi network and start sketching and printing in 3D directly from your web browser. Because it runs in a webbrowser it works on iOS, Android, Windows and Linux.
Just connect to it through your browser. Make a sketch, change it to a 3D shape through the user-friendly interface and simply press Print. Your 3D-printer will immediately start printing your Doodle3D design.
If you don't have a 3D-printer yet you can take your Doodle3D WiFi Box and hook it up to a friend's or Fablab or Makerspace 3D-printer and start printing as soon as you finish designing your doodle. No need to install any software applications or programs!
Doodle3D allows you to create:
Hand drawn 3D printed illustrations
Characters, creatures, tabletop-props
Decorative art, make doodles for your Christmas tree come december!
Patterns, stencils, logo's
Go creative and design a bunch of your own alphabet letters or print a full font.
And much more, it is up to you!
Doodle3D compatibility
The Doodle3D WiFi Box aims to connect any wireless drawing device to any 3D-printer. We will try to support as many different drawing devices (computers, laptops, tablets, smartphones) as well as many different 3D-printers.
Which devices we manage to support depends on how open their format is. If you have an open-source 3D-printer we're almost sure we can support your printer since we can find out how to communicate with it. If you own a commercial closed source printer it might be more difficult.
Printers supported so far by the Doodle3D WiFi Box:
Ultimaker (all models)
Builder 3D
Bukobot
Cartesio Cyrus
Delta RostockMax
Deltamaker
Doodle Dream
EventorBot
Felix
Gigabot
Kossel
LeapFrog Creatr
LulzBot AO-101
MakerBot Replicator '1' (Fifth generation not yet supported)
MakerBot Replicator2
MakerBot Replicator2X
MakerBot Thing-o-matic
MakerGear M2MakerGear Prusa
Makibox
Orca 0.3
ORD Bot Hadron
Printrbot
Printxel 3D
Prusa I3
Prusa Iteration 2
RepRapPro Huxley
RepRapPro Mendel
Rigidbot
RoBo 3D Printer
ShaperCube
Tantillus
Vision 3D Printer
bq Witbox
Wanhao Duplicator 4
Spedizioni

24h/48h/72h


Spedizioni in tutto il mondo
con tariffe ridotte
Info line
orario continuato
dal lunedì al venerdì
10:00-16:00


(0039) 06 76971136
Le informazioni riportate su robot-domestici.it possono essere soggette a modifiche senza preavviso, alcune immagini sono a titolo indicativo.
Tutti i marchi citati sono di proprietà delle rispettive case.
ROBOT DOMESTICI INDUSTRIES di ARMANDO PALIANI - Via Cornelio Labeone, 76 - 00174 Roma (RM)
P.I. IT12960231004 - C.F. PLNRND74R03G763Q - REA di Roma n. RM 1413309
CODICE UNIVOCO PER LA FATTURAZIONE ELETTRONICA: KRRH6B9
Telefono 06 76971136 - Fax 06 62283886