SenseCAP Wireless Soil Moisture and Temperature Sensor - LoRaWAN
COD : SE-101990564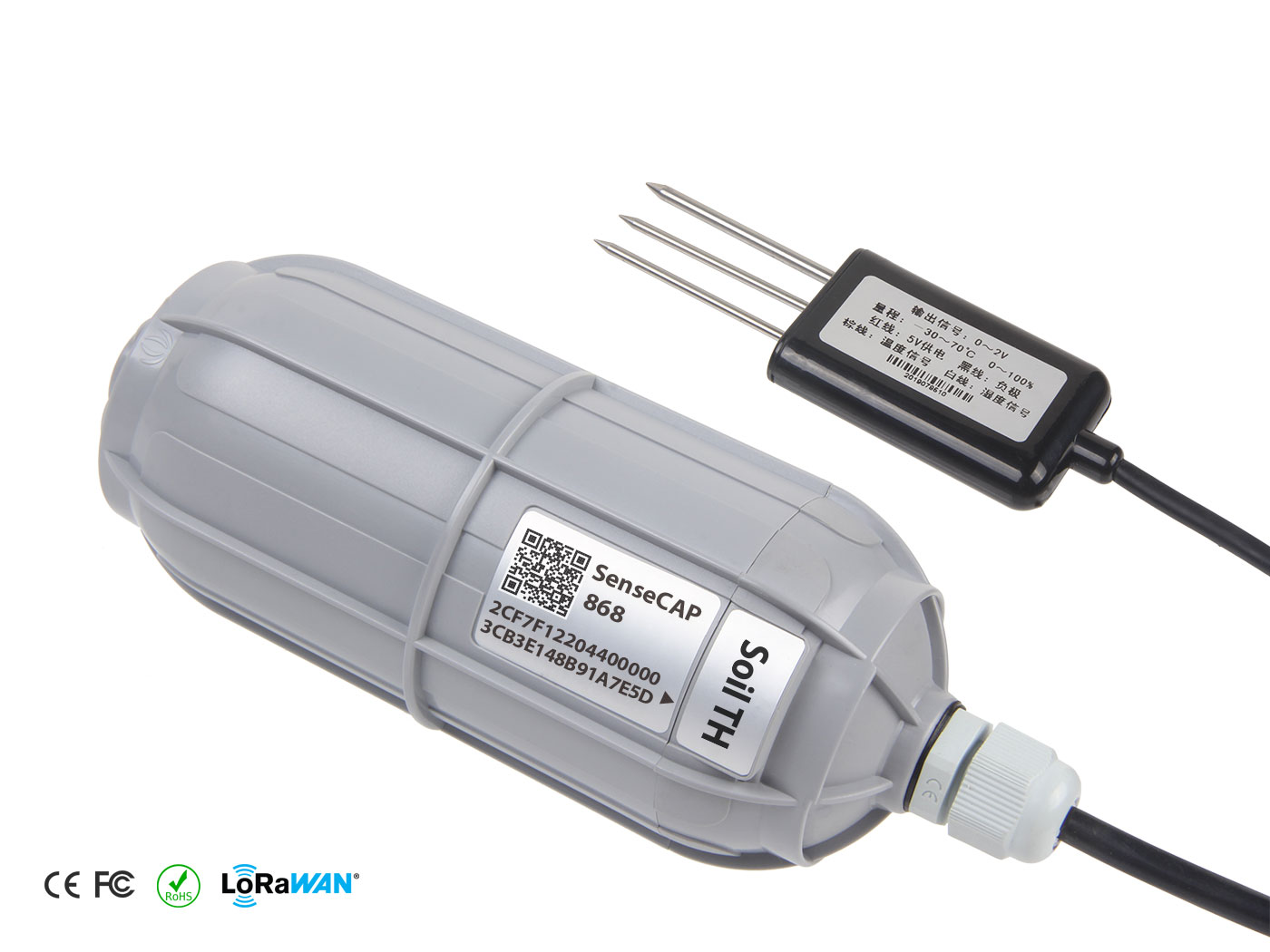 | | |
| --- | --- |
| 328,50 € | (excl. VAT) |
| 400,77 € | (incl. IVA) |

quantit&agrave disponibile: 55
About SenseCAP
Among the first launch of Seeed industrial IoT (IIoT) product series, SenseCAP is focusing on wireless environmental sensing applications: smart agriculture, precision farming, and smart city, to name a few. It consists of hardware products (sensors, data-loggers & gateways, etc.), software services (SenseCAP portal, mobile App, open dashboard), and API for device & data management. SenseCAP supports different communication protocols, such as LoRa, 2G, 4G, NB-IoT, and more.
 
SenseCAP Wireless Soil Moisture & Temperature Sensor measures soil volumetric water content (VWC) and soil temperature at the range of 0 ~ 100% (m³/m³) and -30 ~ 70℃ respectively. With the high-quality soil moisture and temperature probe, this sensor features high precision and sensitivity regardless of soil variability, making it widely applicable in industrial IoT (IIoT) scenarios such as water-saving irrigation, outdoor fields, greenhouses, and more. 
 
This device incorporates a built-in LoRa transmitter based on SX1276 for long-range transmission, a 2-in-1 sensor, and a custom battery. It is specifically designed and optimized for user cases powering end devices by batteries for years.To minimize the power consumption, the device wakes up, transmits the collected soil moisture and temperature data to the gateway, and then goes back to sleep.
 
Under the best of circumstances, the battery is expected to last for more than 6 years, depending on environmental factors and the data transmission intervals. Please kindly note that the default interval is once per hour. If you d like to change the data upload interval, please refer to
this document
 
To fit in adverse conditions, this wireless sensor is designed with industry standards and equipped with an IP66 waterproof enclosure, protecting the device from UV radiation, rain, and sunlight exposure. 
 
The SenseCAP Sensor adopts a modular design, integrating the data logger with the sensor probe, which can be replaced by other SenseCAP sensor probes.
 
Note
SenseCAP Sensor is fully compliant with LoRaWAN specifications and can be used with standard LoRaWAN gateways. Please choose the corresponding gateway according to the sensor frequency.
Seeed also provides SenseCAP LoRaWAN Gateway (coming soon) for you to use with SenseCAP Sensors seamlessly without extra huge workload for provisioning.
System Architecture
SenseCAP Architecture
SenseCAP Sensor + Other LoRaWAN Gateway Architecture
Features
Support LoRaWAN protocol Class A

High reliability and stability

Ultra-wide-distance transmission: 10km in line of sight scene, 2 km in urban scenes

Battery life ≥ 3 years

IP66 enclosure, suitable for outdoor applications

Rapid installation and deployment (see the video below)
Applications
Smart Agriculture
Smart Building and Industrial Control
Environmental Monitoring
Other Wireless Sensing Applications
User Cases
SenseCAP has been deployed in different application scenarios including tea plantations, greenhouses, outdoor triticale farms and weather stations, etc., Please see more info below:
Specifications
Soil Temperature

Range

-30 ℃ to +70 ℃

Accuracy

±0.2 ℃

Resolution

0.01 ℃

Soil Moisture

Range

From completely dry to fully saturated (from 0% to 100% of saturation)

Accuracy

±2% ( 0 to 50 %(m3/m3) )

Resolution

0.01 %(m3/m3)

General Parameters

Product Model

LoRa-S-868-Soil MT-01

Microcontroller

Ultra-low-power MCU

Support Protocol

Based on LoRaWAN v1.0.2 protocol

LoRa Channel Plan

EU868

LoRa Power Output

16 dBm (EIRP)

Sensitivity

-137.5dBm(SF12, BW125KHz)

Current Consumption

5 μA (sleep mode)




120 mA max(active mode)

Communication Distance

2 to 10 km (depending on different antennas and environments)

Measuring Area

A cylinder area (with the probe as the center, diameter: 7cm, height: 7cm)

IP Rating

IP66

UV Resistance

anti-aging (from rain/sun exposure): UL746C F1

Enclosure Material

PC

Operating Temperature

-30 ℃ to +70 ℃

Operating Humidity

0 to 100 %RH (non-condensing)

Device Weight

415g

Certification

CE, FCC, RoHS

Battery (Contained in equipment)

Battery Life

≥ 3 year (upload data once per hour)

Battery Voltage

3.6V

Battery Capacity

19Ah (non-rechargeable)
LoRa Frequency
The device is designed with a fixed LoRa channel, which can not be modified by users. The supported channels are as follows. Please refer to
this document
for how to connect this device with a standard LoRaWAN gateway.
LoRa Channel Plan

Uplink (MHz)

868.1 - SF7BW125 to SF12BW125




868.3 - SF7BW125 to SF12BW125 and SF7BW250




868.5 - SF7BW125 to SF12BW125




867.1 - SF7BW125 to SF12BW125




867.3 - SF7BW125 to SF12BW125




867.5 - SF7BW125 to SF12BW125




867.7 - SF7BW125 to SF12BW125




867.9 - SF7BW125 to SF12BW125

Downlink (MHz)

Uplink channels 1-8 (RX1)




869.525 - SF9BW125 (RX2 downlink only)
Part List
Part List

1

Sensor

x1

2

Bracket

x1

3

M4 Self-drilling Screw

x4

4

M3 Self-drilling Screw

x2
ECCN/HTS
ECCN/HTS

HSCODE

9025800000

USHSCODE

8517709000
| | |
| --- | --- |
| HSCODE | 9025800000 |
| USHSCODE | 8517709000 |
| UPC | |
Ultimo Aggiornamento: 12/08/2020 17:54
Immagini
Le informazioni riportate su robot-domestici.it
possono essere soggette a modifiche senza preavviso, alcune immagini sono a titolo indicativo.
Tutti i marchi citati sono di proprietà delle rispettive case e produttori.

Sede legale
ROBOT DOMESTICI INDUSTRIES di ARMANDO PALIANI - Via Cornelio Labeone, 76 - 00174 Roma (RM)
P.I. IT12960231004 - C.F. PLNRND74R03G763Q - REA di Roma n. RM 1413309
CODICE UNIVOCO PER LA FATTURAZIONE ELETTRONICA: KRRH6B9
Tel. (+39) 06 76971136 | e-mail: info@robot-domestici.it