RONIN M handheld gimbal system
COD : JO-550485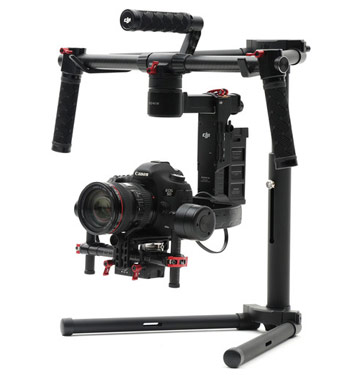 Il nuovo DJI Ronin-M, fratello minore del Ronin.
Compatto, leggero e facile da utilizzare, adatto a fotocamere tipo reflex.

FAST SETUP, PRECISE BALANCING
Save time and start shooting professionally stabilized video in under 5 minutes. Mount your camera to the Ronin-M, quickly balance it, and then tap a button. The upgraded ATS (Auto Tune Stability) technology is more precise than before and completes the tuning and balancing processes with no tools necessary. Easy and efficient.

SIMPLE DISASSEMBLY FOR UNMATCHED FLEXIBILITY
Capture tight shots, even when you have almost no space to work, and easily transport your Ronin-M. The top handle bars quickly and easily twist off, allowing you to minimize its size, achieve different shooting configurations, and pack or unpack it in seconds.

NEW MAGNESIUM FRAME
Your Ronin-M stands up to rugged use in any filming environment. Featuring a superbly strong and rigid magnesium frame, the Ronin-M brings increased stiffness and reduced weight. Notoriously difficult to manufacture and mold, magnesium brings you a new, more exact shooting experience while maintaining easy maneuverability and increasing options on set.

SOLID SUPPORT ARM
Increased rigidity is provided by a single, complete piece of fine-tooled magnesium that forms the U-shaped arm holding the camera plate. Only made possible by DJI's large manufacturing reach and expertise, this unified design eliminates imperfections that are common in systems made of multiple pieces assembled together. This arm gives you not only greater stability but also reliability, as there is no potential for separate pieces to come loose or move apart.

SMOOTHTRACK CONTROL
Even with only one operator, SmoothTrack technology ensures the Ronin-M translates your movements into smooth camera angle changes. Your camera intuitively faces the direction you want, all while completely stabilized, no matter how you move. SmoothTrack settings from speed to deadband to acceleration are fully customizable, and 'Single Axis Follow Mode' enables you to lock two axes while SmoothTrack guides your camera along only one axis of motion.

ENDLESS SHOOTING SCENARIOS. ONE FLEXIBLE SOLUTION.
Capture shots that are impossible with any other setup. Switch effortlessly between the 3 modes of operation, without adjusting any settings or needing a 2nd operator remote.



Attenzione: prima di utilizzare il prodotto si consiglia di verificare se disponibile l'aggiornamento del firmware tramite apposito software assistant gratuito. DJI rilascia frequenti aggiornamenti che migliorano le prestazioni e risolvono eventuali problemi.
Spedizioni

24h/48h/72h


Spedizioni in tutto il mondo
con tariffe ridotte
Info line
orario continuato
dal lunedì al venerdì
10:00-18:00


(0039) 06 76971136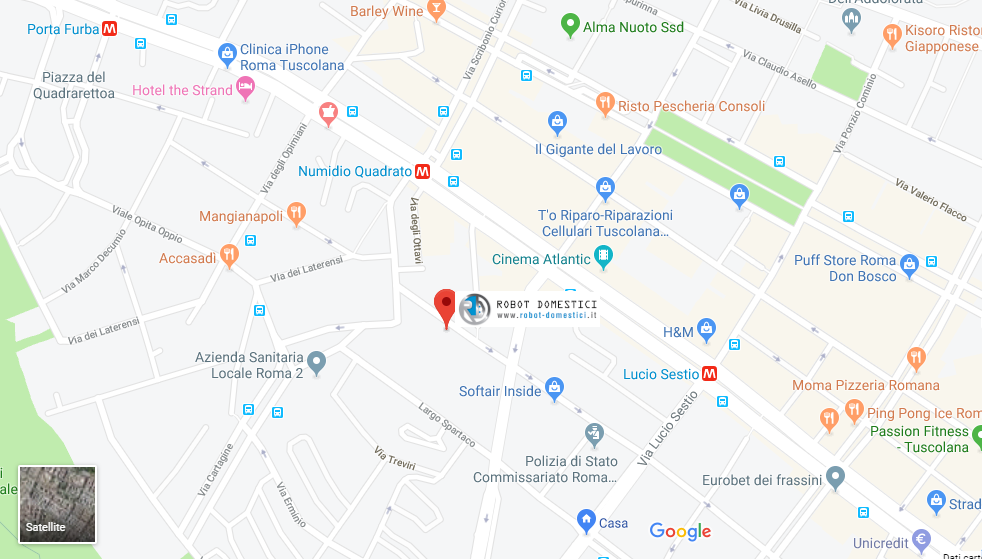 Immagini
Le informazioni riportate su robot-domestici.it
possono essere soggette a modifiche senza preavviso, alcune immagini sono a titolo indicativo.
Tutti i marchi citati sono di proprietà delle rispettive case e produttori.

Sede legale
ROBOT DOMESTICI INDUSTRIES di ARMANDO PALIANI - Via Cornelio Labeone, 76 - 00174 Roma (RM)
P.I. IT12960231004 - C.F. PLNRND74R03G763Q - REA di Roma n. RM 1413309
CODICE UNIVOCO PER LA FATTURAZIONE ELETTRONICA: KRRH6B9
Tel. (+39) 06 76971136 | e-mail: info@robot-domestici.it