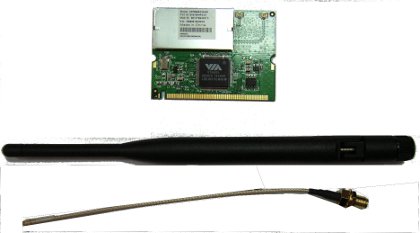 802.11b/g WLAN module enables high-speed
54Mbps wireless connections to satisfy the
bandwidth needs of the most demanding
enterprise, public access and home WLAN
user.
The VIA Networking WLAN Mini PCI solution is the innovate design of VNT's wireless chipset. The WLAN module
based on VIA Networking VT6655 is fully compliant with IEEE's security and 802.11g standards. Enabling data rates
between wireless devices of up to 54Mbps, it can deliver the bandwidth necessary for real-time streaming of
high-definition digital multimedia content in home networks, and provide high-speed email, web and LAN access to
multiple mobile users in corporate environments or public hotspots.
Specifications
Radio
Frequency Band: •2400-2483.5MHz( for US, Canada)
•2400-2483.5MHz( for Europe)
•2400-2497MHz( for Japan)
Operating Channel: IEEE 802.1b, Direct Sequence Spread Spectrum, IEEE 802.11g,
Orthogonal Frequency Division Multiplexing
•11 Channels( US, Canada)
•13 Channels( Europe)
•14 Channels( Japan)
Modulation Type: QPSK, BPSK, CCK, OFDM
Data Rate: Up to 54Mbps
Antenna: Internal with diversity function
Radiation Power: 13-17Bm at maximum radition direction
Power Consumption: •802.11b: 250 Questo indirizzo e-mail è protetto dallo spam bot. Abilita Javascript per vederlo. , 802.11g: Questo indirizzo e-mail è protetto dallo spam bot. Abilita Javascript per vederlo.
•Listening: Questo indirizzo e-mail è protetto dallo spam bot. Abilita Javascript per vederlo.
Receiver Sensitivity: •Min -71dBm@54Mbps, PER<8%
•Min -84dBm@11Mbps, PER<8%
Compliant: FCC Part 15 B, C
Media Access Controller/ Baseband Controller
Chip: VT6655
Media Access Protocol: CSMA/ CA( Collision Avoidance) with ACK
Interface
Host Interface: Support Full 32Bit PCI Standard
Driver Supporting
Operating System: Windows: 98SE/ Me/ NT/ 2000/ XP/ 2003 Ser., Linux( 2.4.x/2.6.x),
CE( 4.2/5.0b)
Mechanical
Physical Dimension: 64.7x44.6x3.8mm
Weight: 20g
Environmental Requirement
Operating Temperature: •0°C to 50°C in Operating
•-20°C to 70°C in Storage
Operating Humidity: •0% to 70% in Operating
•0% to 95% Non-condensing in Storage
Compliance Certifications: Wi-Fi, FCC
Warranty
Period: 1Year