Roboard - 110 Starter Pack - x86
This is a powerful Computer dedicated to robotics applications based on the Vortex86DX, a 32bit x86 CPU running at 1000MHz with 256MB DRAM. It has High-Speed serial ports, integrated FTDI-FT2232HL.
COD : SCSP1009180121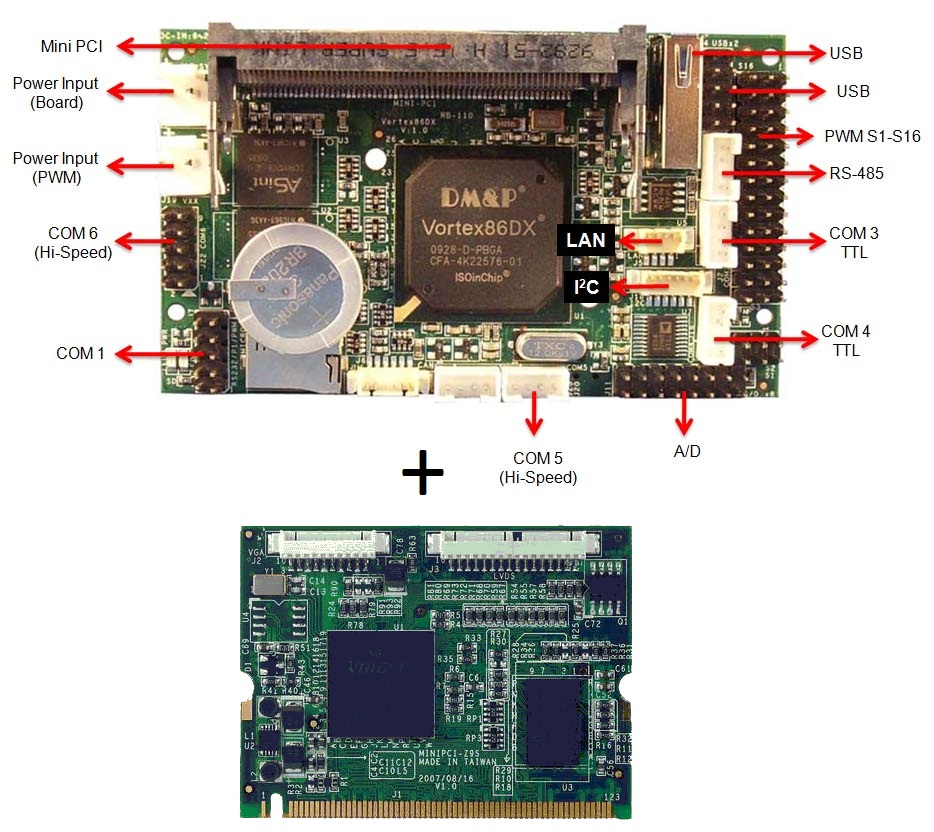 Compatible with Windows, Linux and DOS, it has Open Source C++ Library for Roboard's Unique I/O functions (sensors, actuators, etc.)
This pack comes with miniPCI VGA card for video output
Details:
Model: RB-110
Processor: DM&P Vortex86DX
BIOS: AMI BIOS
Memory: 256MB DDR 2 onboard
Hi-Speed UART: FTDI FT2232HL Hi-Speed UART
ADCs: Analog Devices AD-7918 10-bit
I /O Interface:

Micro SD slot x1 (support class 2,4,6 SDHC with any capacity)
USB port x 1 (USB 2.0 version)

Connectors:

2.54 mm 3-pin box header for PWM x 16
2.54 mm 10-pin box header for RS-232 x1
2.54 mm 10 pin box header for High speed (COM 6) x 1
2.0 mm 4 pin header for High speed (COM 5) x 1
2.0 mm 4-pin header for RS-485 x 1
2.0 mm 4-pin header for TTL serial x 2
1.25mm 6-pin wafer for I2C x1
2.54 mm 16-pin header for A/D x1
2.54 mm 10-pin box header for USB x1
1.25 mm 4-pin wafer for LAN x 1
1.25mm 6-pin wafer for JTAG x1
0.8mm 124-Pin Mini PCI Card connector
3.96 mm 2 pin for Power x 2

Power Consumption: +5V @ 400mA
Power Input: DC-in 6V to 24V
Dimension: 96 x 56 mm
Resolution:

PWM: 20ns
Serial: 115200bps - 750Kbps (COM 1, 2, 3,and 4)
Hi-Speed Serial: up to 12Mbps (COM 5 & COM 6)
I2C: 1Kbps ~ 3.3Mbps

Compatible O/S:

DOS, Windows 98/ME, WIndows XP
Windows Embedded CE 6.0
Windows XP Embedded, Windows Embedded Stardand
Linux distribution kernel 2.4.x, 2.6.x
Includes:
1 x RB-100 Main Board (Hardware only)
1 x RB-110 Cables (COM ports, LAN, I2C and A/D cable)
1 x Roboard MiniPCI VGA Card (XGI Volari Z9S)
For more information, please visit this products webpage.
---
FORSE POTRESTI ESSERE INTERESSATO A QUESTO(I) PRODOTTO(I)
---
Immagini
Le informazioni riportate su robot-domestici.it
possono essere soggette a modifiche senza preavviso, alcune immagini sono a titolo indicativo.
Tutti i marchi citati sono di proprietà delle rispettive case e produttori.

Sede legale
ROBOT DOMESTICI INDUSTRIES di ARMANDO PALIANI - Via Cornelio Labeone, 76 - 00174 Roma (RM)
P.I. IT12960231004 - C.F. PLNRND74R03G763Q - REA di Roma n. RM 1413309
CODICE UNIVOCO PER LA FATTURAZIONE ELETTRONICA: KRRH6B9
Tel. (+39) 06 76971136 | e-mail: info@robot-domestici.it