Roboard - 100 Starter Pack - x86
Roboard RB-100 Starter Pack - x86 Based Robot Board (Pack with Roboard 100 + Cable Set + miniPCI VGA Card)- Embedded PC - Linux embedded board - Board PC
COD : RSP1009031801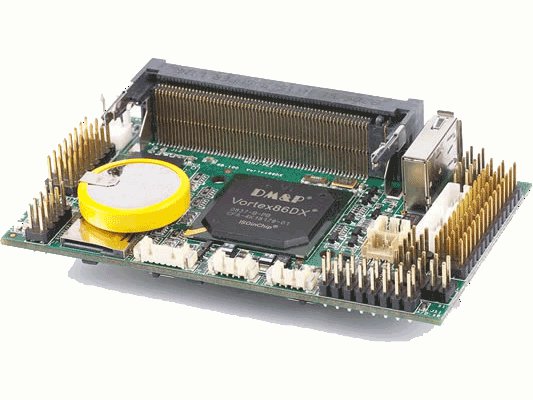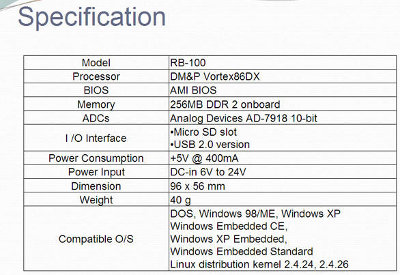 The Roboard RB 100 is an Embedded Board for Robotics applications that runs an x86 class processor (Vortex86) at 1Ghz. It is, indeed, a full PC capable of running Windows and Linux with extremely low power consumption and low weight (~40g).
The board features PWM interfaces, TTL COM, A/D ports, SPI/I2C and comes with 256Mb memory and runs off an SD Card that serves as a Hard Drive.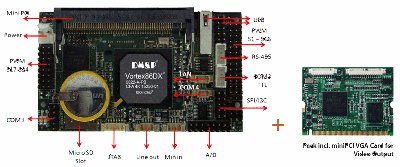 Features
VorteX86 processor at 1Ghz with 256Mb RAM and extremelly low power usage.
24 servo connections (PWM)
1x Comm port with

RS485

interface; 2x Comm ports at

TTL

level (1 full duplex + 1 half duplex); 1x Regular

RS232

Comm Port


(The PWM, TTL and RS485 ports can supply power to the servos / servo bus. The board is capable of suppling up to 10Amps and uses the same voltage applied to the Roboard)
8x A/D ports

and SPI/I2C

interface
Mic In & Sound Out
10/100

Ethernet
3

USB

ports (1 on board and 2 additional using the cable provided)
Operating system runs on MicroSD card (SD HC compatible for improved speed and storage capacity)
DC input from 6V~24V, at 2W. (that's 0.3Amp at 6V .. less than a servo)
Mini-PCI socket interface (socket will be populated with the included miniPCI VGA card for video output)
Dimensions

96 x 56 mm (slightly larger than a credit card);

Weight: 40g (without VGA card)

Operating System Compatibility
Linux
Windows XP
Windows CE
DOS
An Open Source library is available to interface with the Board's IO

(SPI/I2C, PWM, A/D, Continuous Motion Capture and Play, etc.)
Kit Contents
Roboard 100
MiniPCI VGA card (Volaris Z9s)
Cable Set (Power, Sound In/Out, LAN connector, additional USB connector, RS232, 3x COMM port connectors, SPI/I2C connector.
It is compatible with KHR, Robonova, Bioloid, Robobuilder and many other Robots as it supports almost every standard available in today's Robotics applications.
The board is capable of running DOS, Windows XP, Windows CE and Linux. An open source library is available for the various operating systems to interface with all of the board's features.
---
FORSE POTRESTI ESSERE INTERESSATO A QUESTO(I) PRODOTTO(I)
---
Immagini
Le informazioni riportate su robot-domestici.it
possono essere soggette a modifiche senza preavviso, alcune immagini sono a titolo indicativo.
Tutti i marchi citati sono di proprietà delle rispettive case e produttori.

Sede legale
ROBOT DOMESTICI INDUSTRIES di ARMANDO PALIANI - Via Cornelio Labeone, 76 - 00174 Roma (RM)
P.I. IT12960231004 - C.F. PLNRND74R03G763Q - REA di Roma n. RM 1413309
CODICE UNIVOCO PER LA FATTURAZIONE ELETTRONICA: KRRH6B9
Tel. (+39) 06 76971136 | e-mail: info@robot-domestici.it