DAGU - Red Back Spider
Dagu - 48 servo Red Back Spider Robot Controller (Arduino Mega)
COD :
DAGU-RedBackSpider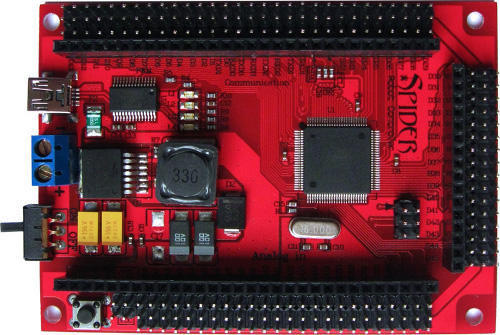 Chiedi informazioni per questo prodotto (Ask a question about this product)
---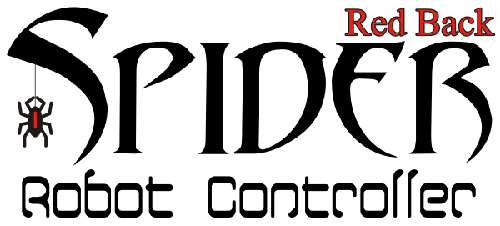 The Red Back Spider controller is an Arduino compatible robot controller designed specifically for robots that use a large number of servos such as humanoids, Hexapods and serpents.
With it's built in 3A switchmode power supply the controller can power and control up to 48 miniature servos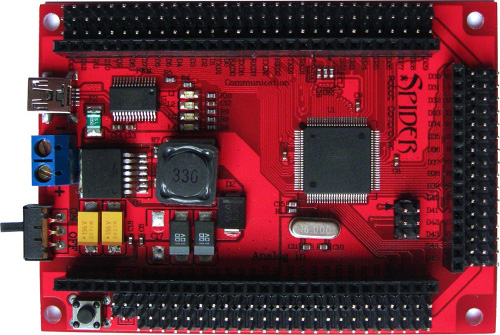 Features:
ATmega1280 MCU with 128K FLASH, 8K SRAM and 4K EEPROM
3A, 5V switchmode power supply. Input voltage: 7V to 30V
70 I/O pins terminated with a servo compatible 3 pin male header and a female header
USB interface and ISP socket
Power switch and reset button
Pin spacing allows custom sheilds to be made using standard prototype PCB's
Comes with Arduino bootloader installed
16x 10 bit analog inputs
Up to 15x PWM outputs (depends on the number of servos in use)
4x serial ports (1 used by USB interface)
1x I²C interface
Can drive up to 48 servos using the Arduino servo library
Video of 48 servos: http://www.youtube.com/watch?v=SQN42dEiugk
Video of robot Spider: http://www.youtube.com/watch?v=7hG6Amnb9Mo
DAGU products support site: https://sites.google.com/site/daguproducts/
Now there is an optional Shield available that allows high powered servos to be driven directly from the battery or an external power supply.
This smaller PCB does not block access to the Spiders pins allowing smaller servos to be driven from the Spiders 5V supply while high powered servos can be run directly from a 6V or 7.2V battery.
Dim lights Embed Embed this video on your site
---
File aggiuntivi
Red Back Spider (0,68 MB)
---
Forse potresti essere interessato a questo(i) prodotto(i)


| | |
| --- | --- |
| 31,05 € | (excl. VAT) |
| 37,88 € | (incl. IVA) |

| | |
| --- | --- |
| 32,40 € | (excl. VAT) |
| 39,53 € | (incl. IVA) |

| | |
| --- | --- |
| 18,77 € | (excl. VAT) |
| 22,90 € | (incl. IVA) |
Spedizioni

24h/48h/72h


Spedizioni in tutto il mondo
con tariffe ridotte
Info line
orario continuato
dal lunedì al venerdì
10:00-16:00


(0039) 06 76971136
Le informazioni riportate su robot-domestici.it possono essere soggette a modifiche senza preavviso, alcune immagini sono a titolo indicativo.
Tutti i marchi citati sono di proprietà delle rispettive case.
ROBOT DOMESTICI INDUSTRIES di ARMANDO PALIANI - Via Cornelio Labeone, 76 - 00174 Roma (RM)
P.I. IT12960231004 - C.F. PLNRND74R03G763Q - REA di Roma n. RM 1413309
CODICE UNIVOCO PER LA FATTURAZIONE ELETTRONICA: KRRH6B9
Telefono 06 76971136 - Fax 06 62283886