DAGU - Micromagician Robot Controller
COD : DG-RS019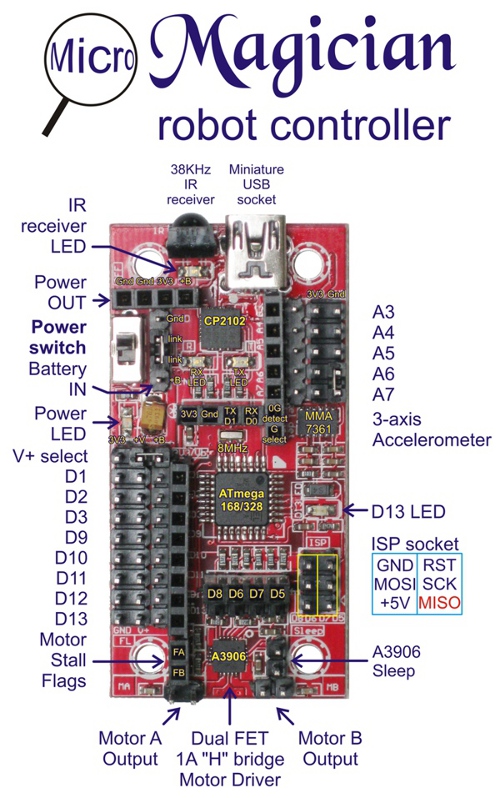 Designed for small robots using small batteries, the Micro Magician is a 3.3V controller running at 8MHz.
Working from 4.5V to 9V means this constroller can run from a single LiPo cell or 3x NiMh batteries.
Reverse polarity protection means no blue smoke if you get your power wires crossed (reverse polarity diode rated at 3A).
The Micro Magician is small (60mm x 30mm) and yet is has many features you won't get on big boards.
Dual FET "H" bridge with charge pump:
Drives 2x DC motors or 1x stepper motor.
Low voltage opperation from 2.5V to 9V.
Low "ON" resistance of just 1.1? with a supply voltage of 3V for better motor torque.
Electronic brake is ideal for small robots that need to stop quickly.
Current limit set to 910mA to prevent accidental damage due to stalled motors or short circuits.
Motor stall flags allow your code to determine if a motor has stalled.
Sleep mode to reduce power consumption when not used. Allows control pins to be re-used.
Arduino library includes commands to simplify use with DC motors and stepper motor.
3-axis accelerometer:
Defaults to ±1.5G full range sensitivity. Can be changed to ±6G if required.
0G detect can be used with external interrupt pin to shut down servos or motors when the robot falls to protect gears.
Can measure the angle the robot is sitting at to prevent falling over or aid in self righting manuvers.
Arduino library includes commands to detect direction / magnitude of an impact, eliminating the need for bumper switches.
IR receiver with status LED:
38KHz IR receiver hardwired to digital pin 4 allows low cost remote control using a TV remote.
Status LED indicates when a signal is received to aid program debugging.
Arduino library includes Sony IR Code (SIRC) decoder providing 128 virtual buttons.
Additional IR receivers can be added on other pins and read using library decoder.
Drive up to 8x servos:
Up to 8x miniature servos can plug directly into the PCB and be powered from the battery.
Servos protected by reverse polarity diode.
---
Forse potresti essere interessato a questo(i) prodotto(i)


| | |
| --- | --- |
| 32,40 € | (excl. VAT) |
| 39,53 € | (incl. IVA) |

| | |
| --- | --- |
| 18,56 € | (excl. VAT) |
| 22,64 € | (incl. IVA) |

| | |
| --- | --- |
| 18,77 € | (excl. VAT) |
| 22,90 € | (incl. IVA) |

| | |
| --- | --- |
| 71,53 € | (excl. VAT) |
| 87,27 € | (incl. IVA) |
Immagini
Le informazioni riportate su robot-domestici.it
possono essere soggette a modifiche senza preavviso, alcune immagini sono a titolo indicativo.
Tutti i marchi citati sono di proprietà delle rispettive case e produttori.

Sede legale
ROBOT DOMESTICI INDUSTRIES di ARMANDO PALIANI - Via Cornelio Labeone, 76 - 00174 Roma (RM)
P.I. IT12960231004 - C.F. PLNRND74R03G763Q - REA di Roma n. RM 1413309
CODICE UNIVOCO PER LA FATTURAZIONE ELETTRONICA: KRRH6B9
Telefono 06 76971136