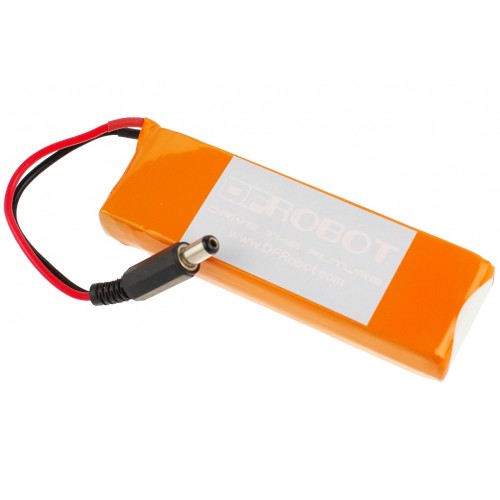 This high discharge LiPo is a great way to power any R/C, robotic, or portable project.
This is an excellent choice for anything that requires a small battery with a lot of punch.
The voltage is low enough not to tax your regulating circuits, and the discharge rate is high enough to accommodate a lot of electronics and  motors.
We customized it by using an Arduino Compatible Power Jack to make easier to be integrated into any Arduino Project.
It is also the best selection for Arduino power robots.
The battery has two cells and outputs 7.4V storing 2200mAh of charge. Because this is a dual cell battery pack, a special charger is needed. This battery is not compatible with single cell chargers.  The ultimate charger is recommended for charing this battery.
NOTE: The latest version has buildin protection board which allows the battery to be charged by 9V DC power supply. You don't need professional battery charger any more.
Specification
7.4V 2-cell pack
2200mAh of charge
40C continuous discharge rate
8AWG bare discharge leads
1000 chargin cycle
Arduino Compatible DC2.1 Power Jack
Size:103x34x15mm
Wight: 130g
Shipping List
7.4V Lipo Battery (1 unit)