4D Systems - 4D Programming Cable
COD : RAD1201082206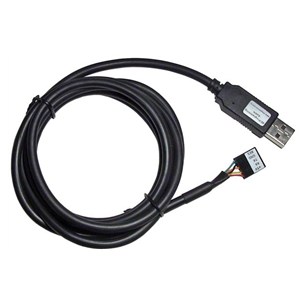 The 4D Programming Cable is a USB to Serial-TTL UART converter cable. It incorporates the Silabs CP2102 USB to Serial UART bridge IC (as used in the uUSB-MB5 module) which handles all the USB signalling and protocols. The cable provides a fast and simple way to connect all of the 4D devices that require TTL level serial interface to USB. The Programming Cable is also an essential hardware tool used for programming PmmC files and 4DGL user code downloads into the GOLDELOX, PICASO and DIABLO processors embedded in many 4D modules.
The cable contains a small internal electronic circuit board, utilising the CP2102 chip and special RESET circuitry, which is encapsulated into the USB connector at the end of the cable. The cable is RoHS compliant and is available with a 5pin female header (0.1"/2.54mm pitch) at TTL levels of 3.3V for RX and TX. The 5pin header is labeled with the appropriate signal names: +5V, RX, TX, GND, RESET which match the programming headers on the 4D devices. The cable also provides +5V DC supply to power up the target device. The cable is 1.8m in length and the circuitry is USB powered (USB 2.0 compliant full speed @ 12Mbps) and supports data rates from 300bps to 1Mbps.
4D Programming Cable features:
USB 2.0 compliant Full Speed 12Mbps maximum speed.

Hardware or Xon/Xoff handshaking supported; 300bps to 1Mbps.

UART supports 5-8 bit data, 1-2 Stop bits, odd/even and no parity.

Integrated EEPROM for Vendor ID, product ID, serial number, release number.

Virtual COM port drivers allow operation with existing COM port PC applications.

Supports Windows, MAC (OSX-9 and above) and Linux (2.4 kernel and above).

USB powered; -40 to +85 deg C temp range.

Small size; circuitry built inside the USB connector.

1.8m in length

RoHS compliant.
---
Forse potresti essere interessato a questo(i) prodotto(i)


| | |
| --- | --- |
| 100,50 € | (excl. VAT) |
| 122,61 € | (incl. IVA) |
Ultimo Aggiornamento: 31/03/2020 10:05
Immagini
Le informazioni riportate su robot-domestici.it
possono essere soggette a modifiche senza preavviso, alcune immagini sono a titolo indicativo.
Tutti i marchi citati sono di proprietà delle rispettive case e produttori.

Sede legale
ROBOT DOMESTICI INDUSTRIES di ARMANDO PALIANI - Via Cornelio Labeone, 76 - 00174 Roma (RM)
P.I. IT12960231004 - C.F. PLNRND74R03G763Q - REA di Roma n. RM 1413309
CODICE UNIVOCO PER LA FATTURAZIONE ELETTRONICA: KRRH6B9
Tel. (+39) 06 76971136 | e-mail: info@robot-domestici.it