ROBOTIS - Bioloid PREMIUM Kit
ROBOTIS Bioloid PREMIUM Kit rappresenta la nuova generazione dei Robot Umanoidi creati dalla Robotis.
COD :
RV-RKU1008090103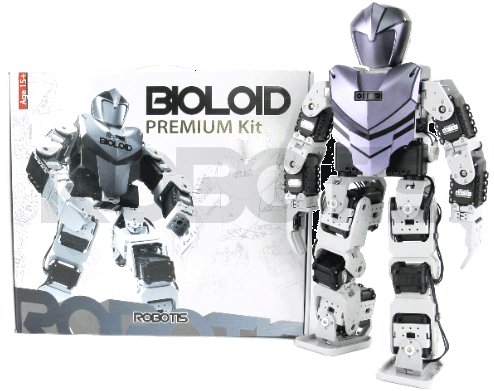 Chiedi informazioni per questo prodotto (Ask a question about this product)
---
The PREMIUM Kit builds on the great success of the Comprehensive Kit and further improves
it with the included Gyro (with Dynamic Walk Balancing), LiPo batteries, new Micro Controller
(with 6 generic A/D ports for expansion) and new Frame Materials.
A number of accessories are now part of the kit
including the USB2Dynamixel and the RC100 Gamepad.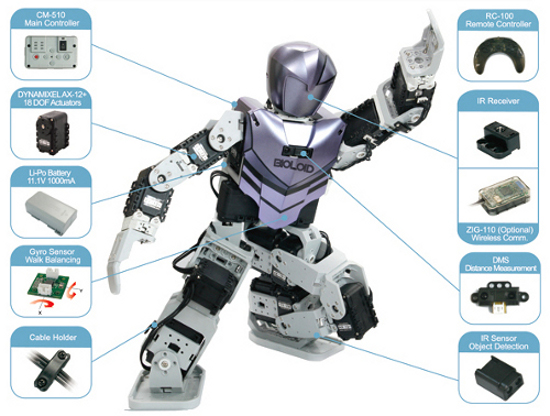 Introduction:
The Bioloid Robot Kits are designed as a modular, flexible robot platform allowing the construction
of many different robot shapes.
A unique feture of the Robot is its Dynamixel Protocol, a one-wire, daisy-chain digital bus that connects
all servos and devices at a speed of 1 Mbps.
The kit includes 18 servos (Degrees of Freedom) an can be assembled in a variety of ways.
The included AX-12 servos offer high torque (14 kgf.cm)
and reliability a and are one of today's most popular servos among Robot enthusiasts.
Throughout the years the Bioloid Kit has proven to be one of the most flexible and advanced platforms
being the choice of Beginners, Hobbyists and Research Institutions Worldwide for it's high quality,
flexibility and advanced technology.
Bellow we Highlight the new features that make this Robot one of the most complete
and flexible robot kits and the best Bioloid designed to date.

New Gyro Sensor for Walk Balancing:
The kit comes with a 2 axis Gyro that connects directly to the Dynamixel Bus and offers real time XY information.
This Gyro is used for Dynamic Walk Balancing (Full source code for Dynamic Balancing is written
in Roboplus Task and available for enhancement and modification).
Additional Gyros can also be added to the robot (using the Dynamixel bus) for improved stabilization applications and expert designs.

New CM-510 Microcontroller:
ATMEGA 256 processor
6 GPIO + A/D ports for expansion with third party sensors
A port for Zigbee and IR receiver is now exposed externally allowing easy upgrade.
In addition this port can be used to extend the robot with any other third party device.
Embedded MIC / buzzer
Designed to support LiPO batteries: cutt-of mechanism and real time battery level reporting.
The well popular Dynamixel bus is maintained and supported with 5 connectors for Servo Bus / Servo Chains.

New Sensors and Sensor Ports:
The AX-S1 sensor has been removed form the PREMIUM kit and instead, it's functionalities have been assembled
separately for maximum flexibility: 3 Distance Sensors  (one of which is a Sharp IR sensor)
are included and can be connected where it is most convenient; the Sound Sensor and Buzzer were moved into the microcontroller.
The Sensors now connect to the external A/D ports on the new CM-510 Microcontroller (just like any other Analogue sensor),
making for excellent flexibility and extensibility of the robot.

New Powerful Programming Tools
Roboplus is the new Software Suite used by the Bioloid PREMIUM Kit.
It represents a leap forward from the previous Motion Editor and Behavior Control Program
previously used by the Comprehensive Kit and is light years ahead of many competing Robot Kits.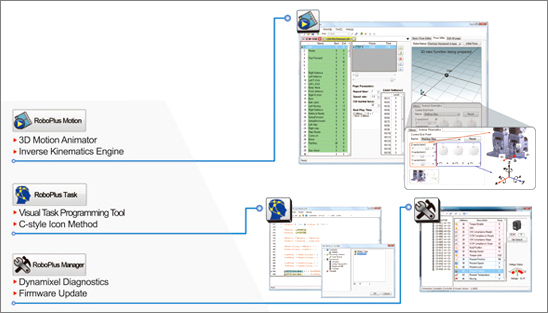 RoboPlus Motion to develop new Motions for the Robot

This tool includes:
Catch-and-play functionality
3D Motion Editor
Inverse Kinematics Engine
In addition it interoperates with Excel letting you design and fine tune motions and servo positions based on your calculations,
something that was never before possible on any humanoid.
RoboPlus Task to develop Autonomous Behaviors for the Robot

Although this is a graphical tool, designed to be accessible,
it uses the constructs of a structured programming language like C.
You can use LOOPs, IFs, and FUNCTIONS letting you learn all about the basics of programming.
In addition, RoboPlus Task includes a unique CALLBACK function (called every 8 ms)
in a Task Switching style approach.
This function can be used to make real time adjustments of walk and motions based on sensorial feedback
from sensors including the new 6 axis IMU.

The tool is ideal for all those who want to learn (or teach) but it is also very appealing
for Advanced Users as it allows the rapid prototyping of very sophisticated logic
without the need to use WinAVR C to develop a custom firmware.
RoboPlus Manager

Designed to manage your Robot, this tool brings together
all the features of Firmware Management and Dynamixel bus debug and interaction.
It offers a unique view of all devices on the Dynamixel bus letting you view (and edit)
the various parameters of each device in real time.
RoboPlus Terminal

This is the classic

Robotis

Terminal where you can interact directly with the Robot.
In addition, it can be used to view Debug information from RoboPlus Task Programs.
User Debug information can also be created by the user by using the PRINT command in RoboPlus.

New (LiPo) Battery:
The Robot is equipped with an 11.1V LiPo battery which is assembled outside the Robot (bellow the Controller).
This modification improves the Robot behavior in many different ways:
The center of gravity is lowered offering improved stability
The higher voltage offers improved torque and speed of the AX-12 servos
Offers increased run times on a full charge
Because the battery is outside the controller box, it can be easily replaced once it has no more power.
This is ideal for long periods of use such as demonstrations and especially competitions.

RC100 Gamepad:
The RC100 is Robotis approach to Playstation-like controllers.
This Gamepad is fully supported by Roboplus and can work over Infrared or Zigbee for maximum performance and reliability.
(the default is IR and Zigbee is Optional; during the release campaign we are offering the Zigbee upgrade for free)
Although not a new product, the true novelty is the inclusion of the Gamepad with all Bioloid PREMIUM Kits.

USB2Dynamixel:
This is another product that is not new to Robotis but once again, for the first, this accessory is included with Bioloid PREMIUM kits.
The USB2Dynamixel offers a USB bridge to program the Robot and, in addition, it includes ports for the Dynamixel Bus
(supporting AX series of servos as well as RX and EX series).
This ports enables the direct communication of the computer with the servo bus,
allowing the direct communication fo the PC with the servos for the implementation of advanced algorithms
and logic that require high CPU power.

Other Improvements:
A number of other improvements have been made as result of a Development program of almost 2 years:
new frame materials are used making for lighter yet stronger frames,
a new cable routing system is used for easier maintenance and improved cable durability
and number of additional constructions are supported by the kit (including Grippers).
The shape of the Chest has been Modified for a more Human-like look and full customization.
For easy placement of the included sensors and accessories, frames from the OLLO system have been included
which enable a finer construction and positioning of the various components.

Additional Information and Documentation:
Additional Manuals and Information can be found on the ROBOTIS Online Tech Support Site here http://support.robotis.com/en/
Assembly and Kit Description:
Visit the above website and, on the left tree, expand "Product Information" -> "BIOLOID" -> "PREMIUM KIT" and click on "Getting Started"
RoboPlus Software Suite (Motion, Task, Manager, ...)
Visit the above website and, on the left tree, expand "Software Help" -> "Roboplus".
For a Tuturial on RoboPlus, on the left tree, expand "Product Information" -> "BIOLOID" -> "PREMIUM KIT" -> "Tutorial"
Expanding the Robot with Third Party Sensors
Visit the above website and, on the left tree, expand "Product Information" -> "BIOLOID" -> "PREMIUM KIT" > "Useful Information" and click on "Making your Own Sensor"
Many other interesting and useful information can be found the above website.
If you want to get in depth information about the Robot we strongly encourage you to explore this ROBOTIS Online Tech Support Site.

Kit Contents: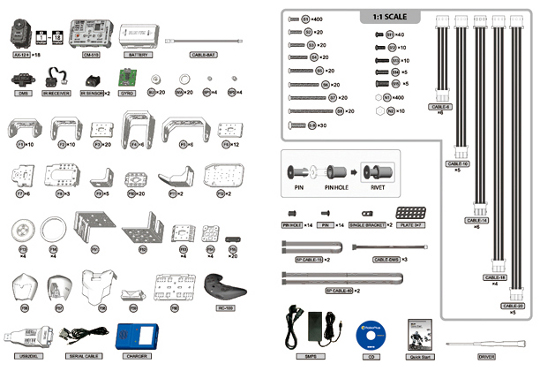 ---
Altre immagini







Spedizioni

24h/48h/72h


Spedizioni in tutto il mondo
con tariffe ridotte
Info line
orario continuato
dal lunedì al venerdì
10:00-16:00


(0039) 06 76971136
Le informazioni riportate su robot-domestici.it possono essere soggette a modifiche senza preavviso, alcune immagini sono a titolo indicativo.
Tutti i marchi citati sono di proprietà delle rispettive case.
ROBOT DOMESTICI INDUSTRIES di ARMANDO PALIANI - Via Cornelio Labeone, 76 - 00174 Roma (RM)
P.I. IT12960231004 - C.F. PLNRND74R03G763Q - REA di Roma n. RM 1413309
CODICE UNIVOCO PER LA FATTURAZIONE ELETTRONICA: KRRH6B9
Telefono 06 76971136 - Fax 06 62283886