ROBOTIS - Bioloid Comprehensive kit
Robotis - Bioloid Comprehensive kit è il sistema avanzato per progettare e costruire i tuoi robot.
COD :
RSE-RKU1008090349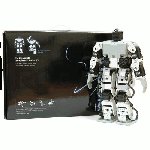 Chiedi informazioni per questo prodotto (Ask a question about this product)
---
Il kit include una mcu-CM 5 (Atmel ATMEGA128), 18 AX-12 + servi in serie controllata, 1 modulo del sensore AX-S1, la batteria ricaricabile (9.6V), 2 Utilità di programmazione e un assortimento di montature, dadi e bulloni.
I servi sono collegati in cascata e in serie controllata fornendo posizione, corrente e di calore feedback al controller host.
Clicca sulle icone qui sopra per guardare i video di alcuni robot che puoi costruire utilizzando questo kit.
AX-S1 sensor module (Also serially controlled):
3 IR refection sensors (front, left and right)
IR receiver
Microphone
Piezo-electric Sounds
AX-12+ Servo Actuator Module (Serially controlled, Specs at 10V):
Reduction Ratio: 1/254
Torque: 16.5kg-cm
Speed: 0.196sec/60deg
Flexible Assembly: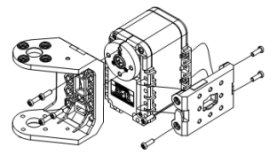 The Frame Based Assembly System makes for a very flexible robot kit.
The Kit comes with multiple documented shapes ranging from simple robots with 1 or 2 servos up to a Full Featured Humanoid Robot (all parts for all models are included).
The Diagram on the left shows the casing of both the AX-12 and AX-S1. You can see on this diagram that there are a number of mounting locations where M2 nuts can be slotted in and held in position. (There are 4 of these locations on each side, 2 at the bottom and these are repeated on the rear of the module). This clever design allows the many frames included in the Bioloid Kit to connect to the AX-12's and AX-S1's easily. Also, the rotating bush, i.e. the bushing mounted to the shaft, of the AX-12 also has 4 M2 Nuts that are held in place - this provides a 'thread' to make connection of frames easy as well.
Non adatto per i bambini perché i servi sono molto potenti !
Serial Control:

The Bioloid uses a 1 wire digital bus to communicate with all peripherals (Servos, Sensors, etc.).
This bus consists of a Half Duplex UART at TTL. The result is a networked servo bus with 1 data wire and two power wires (Vdd, GND) making for simple, yet effective connection of devices.
The bus has also the unique feature of running at 1Mbps enabling advanced robot applications that require high amounts of feedback and commands to the servos.

Software and Programming:
Once the Robot is Assembled it can be programmed with New, Custom Motions as well as new Autonomous Behaviors making the Robot react to the External Environment/Sensors.
Motion Editor - a GUI that allows you to create motion sequences for your robot.

Behaviour Control Program - a GUI that allows you to program sequences of events/motions.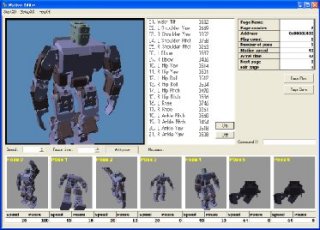 Motion Editor
The motion editor has a graphical user interface that allows the user to edit a multi-jointed robot made up of Robotis servos. A user can create and edit motions by moving the joints by hand and saving each pose using the motion editor. The user can also connect or repeat edited motions.
Once a motion has been defined it can then be downloaded into the CM-5's FLASH and called from the Behaviour Control Program.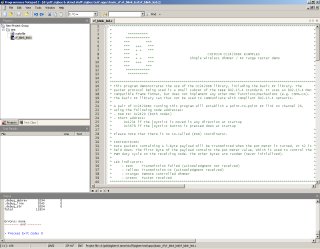 Programming in C for Advanced Applications and Research
Kit Contents:
CM-5 Controller board (

Atmel

ATMega128 @ 16Mhz),
18 AX-12+ Serially controlled servo's (UART @ 1Mbps one-wire TTL)
1 AX-S1 Sensor module,
Rechargeable battery pack (9.6V),
2 Programming Utilities

(

freeware

)

,
a Switch mode Power Supply,
Serial Cable (9pin D-type),
an assortment of frames (over 100),
wheels &

tires

, and
spacers

, bushings, nuts & bolts.
The CM-5 controller board is based on the popular Atmel128 MCU. It is also possible to program the CM-5 module using freeware GNU GCC compiler WinAVR available by AVR Freaks. This gcc compiler is a great freeware tool, coupled with the editor Programmers Notepad.
The robot also includes a
This is an option for experienced programmers only though.
On our Forum you will find a number of Libraries and Tips to program the Robot in C.
Behaviour Control Program
A robot is a machine that can behave in various ways. However, it can do so only when there is a program that tells how the robot should act for a certain situation. This program is called the "Behaviour control program." A Behaviour control program is a series of rules that define the action a robot should take for the given state.

A series of commands are entered that allow the programmer to interrogate ALL the functionality of the AX-12, AX-S1 and the CM-5 mcu module. The functionality accessible within the CM-5 includes playing motion sequences, external pushbuttons and the CM-5's timer.
Spedizioni

24h/48h/72h


Spedizioni in tutto il mondo
con tariffe ridotte
Info line
orario continuato
dal lunedì al venerdì
10:00-16:00


(0039) 06 76971136
Le informazioni riportate su robot-domestici.it possono essere soggette a modifiche senza preavviso, alcune immagini sono a titolo indicativo.
Tutti i marchi citati sono di proprietà delle rispettive case.
ROBOT DOMESTICI INDUSTRIES di ARMANDO PALIANI - Via Cornelio Labeone, 76 - 00174 Roma (RM)
P.I. IT12960231004 - C.F. PLNRND74R03G763Q - REA di Roma n. RM 1413309
CODICE UNIVOCO PER LA FATTURAZIONE ELETTRONICA: KRRH6B9
Telefono 06 76971136 - Fax 06 62283886