RoboBuilder - 5710K-S03 Standard
RoboBuilder 5710K-S03 Standard Edition w/ FREE Distance Sensor
COD :
RKU1008230129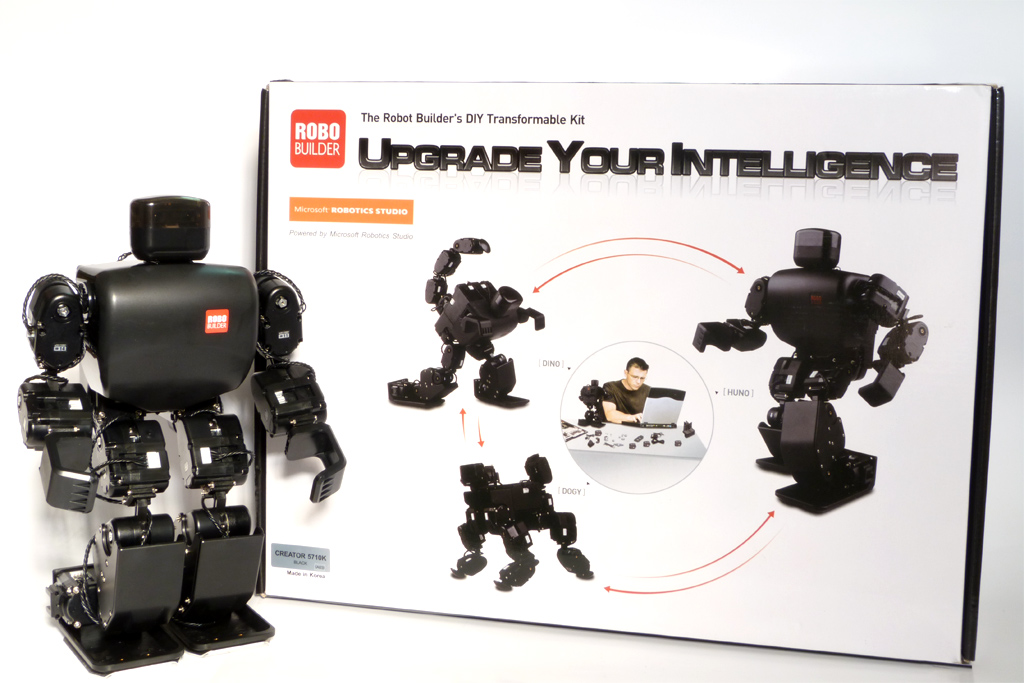 Chiedi informazioni per questo prodotto (Ask a question about this product)
---
Following up to the huge success of the platform, we are teamed up
with Robobuilder to bring you an exclusive edition packed with extra goodies:
to the base 5720T that packs the Distance Sensor (Object Detection Sensor), 
Voice Output andTransparent Servos with LEDs,
we've added the Acceleration Sensor for Free.
Dim lights Embed Embed this video on your site
Dim lights Embed Embed this video on your site
The result is this 5720T Robot Kit, a full featured, easy-to-use, attractive kit.
Easy Assembly:
The robot comes with 16 servos (DoF) and is assembled using a Joint-Insert system which makes for easy assembly and modification of the robot.
The included manual documents 3 shapes (Humanoid, Dinosaur and Dog) but with the joint-assembly system you can redesign the robot into any shape you can imagine.
Interactive and Great Looking:
This 5720T includes Voice Output and Transparent Servos with LEDs. 
With Transparent Servos you can see all the gears inside moving and all the inner workings of a servo. With the built-in LEDs you can coordinate a Visual Performance with the Physical performance on the robot.
In addition, the Voice Output feature makes the Robot truly "speak" some words while it performs making a great Interactive and Entertaining Robot.
Intelligent:
The robot has a built-in Microprocessor for storing and executing new motions and autonomous behaviours.
5 different programming options are available to suit absolute Beginners and Intermediate-to-Expert Users alike.
In addition we have included the Object Detection (Distance) Sensor and Acceleration Sensor in this Robosavvy Special Pack further improving its performance in autonomous missions.
Smooth Learning Curve:
Starting with the easy joint-insert assembly system, you can start using the robot immediately with the pre-programmed motions.
After that, MotionBuilder can be used to create and add new moves to the robot using a simple "catch-and-play" system.
Once you're familiar with the robot, you can move on to programming Autonomous Behaviours:
ActionBuilder is a friendly graphical tool for Beginners to create simple behaviours (avoid obstacles, get up after falling, etc.).
Microsoft Robotics Development Studio: Use the included Robobuilder MSRDS Manual to learn about the robot and how to use the Visual Programming Language to have it react to Voice Commands, Control from your Keyboard or Gamepad, etc.*
Microsoft Visual Studio .Net: Choose form the MSRDS libraries or the Libraries Developed by our Community that will let you perform full interaction with the Robot, the Sensors and the Servo bus.*
C programming: sample software and libraries are available for programming the robot, including full Source Code of the Standard Firmware.
Any other languages are supported (Ruby, Python, PHP) by using the robust RBC protocol and wCK protocols to interact with the robot over the serial port or Bluetooth.*

(The options marked with '*' mean the Robot and the Computer will interact in real time; you can use the included cable or upgrade to Bluetooth for wireless communication)
Extensible to the Milimetre:
In addition to all the assembly and shape possibilities, all servos include 1 A/D port and 2 DIO ports (in the 5720T the DIO ports are used by the LEDs). 
Using the daisy-chain connection mechanism you can build robots with up to 253 servos!
A number of accessories are also available to customize and extend the robot such as a Hip Kit for +2DOF, a Spider Kit to build a Hexapod, Metal Brackets Kit and various Hand Grippers (by l3v3rz).
The resulting product is an affordable, easy to assemble and reliable advanced robot kit that to this day has seen an enormous success at Robosavvy and has been receiving enthusiastic community support at our forum.
The robot has also been receiving several awards since it was released.
---
Documentation:
Users Manual (15 Mb)
Resources for Beginner Level programming:

Resources for Intermediate-to-Advanced Programming:

Kit contents:
1x RBC-YNN Intelligent Controller Box
12x wCK-1108 Smart Actuator Module:

PID Motion Control
Torque: 8 kgf.cm
1x Generic A/D port + 2x Generic PIO ports for expansibility
Main Output Gear in Metal for Added Strength and Reliability

4x wCK-1111 Smart Actuator Module:

PID Motion Control
Torque: 11 kgf.cm
1x Generic A/D port + 2x Generic PIO ports for expansibility
Main Output Gear in Metal for Added Strength and Reliability

1x Sharp Infrared Distance Sensor (inside the Robot Head)
1x Acceleration Sensor (inside the Controller Box)*
1x Sound Sensor (inside the Controller Box)
1x Remote Controller
11x Misc. Body parts (7 types)
39x Plastic Joint parts (12 types)
1 set of Nuts & Bolts
20x wCK Module Cable
1x 220V Power Supply
1x User Guide Book
1x Software CD
1x RS-232 cable for PC communication
Prepared to Upgrade with Bluetooth for Wireless communication with the PC and other devices.

* The Acceleration Sensor is part of the Robosavvy Special Edition Campaign; it is not included with the Standard 5720T robots.
---
Forse potresti essere interessato a questo(i) prodotto(i)


| | |
| --- | --- |
| 762,60 € | (excl. VAT) |
| 930,37 € | (incl. IVA) |
Spedizioni

24h/48h/72h


Spedizioni in tutto il mondo
con tariffe ridotte
Info line
orario continuato
dal lunedì al venerdì
10:00-16:00


(0039) 06 76971136
Le informazioni riportate su robot-domestici.it possono essere soggette a modifiche senza preavviso, alcune immagini sono a titolo indicativo.
Tutti i marchi citati sono di proprietà delle rispettive case.
ROBOT DOMESTICI INDUSTRIES di ARMANDO PALIANI - Via Cornelio Labeone, 76 - 00174 Roma (RM)
P.I. IT12960231004 - C.F. PLNRND74R03G763Q - REA di Roma n. RM 1413309
CODICE UNIVOCO PER LA FATTURAZIONE ELETTRONICA: KRRH6B9
Telefono 06 76971136 - Fax 06 62283886