The POP-BOT is and Arduino compatible, mobile robotic platform. It comes complete with wheels, motors, sensors, software, documentation, etc. The POP-BOT MCU comes in two parts, the POP-168 Module and the RBX168 power module board.
Dim lights Embed Embed this video on your site
Dim lights Embed Embed this video on your site
Dim lights Embed Embed this video on your site
For Enthusiasts, the kit goes beyond the traditional Arduino boards by offering a comprehensive set of parts that will let you build an Arduino Powered Autonomous Robot and further explore Arduino and the ATMEGA168 processor.
For Students and Teachers the set comes with a comprehensive set of Activities and Training Sessions for introducing Electronics, Sensors and Microcontrollers using the well-popular Arduino Platform. No soldering is required so the kit is perfectly safe for the Classroom.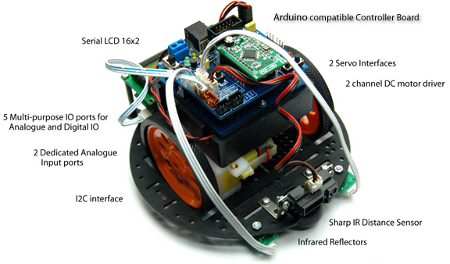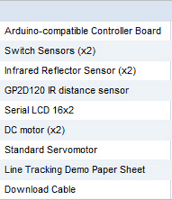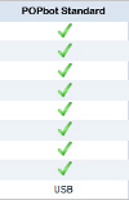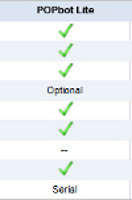 Manuals, Activities and Training Resources
---
The Kit comes with thorough documentation and a number of Manuals and Training Sessions aimed at Beginners to Advanced Users.
A Full List of Activities can be found on the User and Activities Manual
The manual introduces all the different parts, explains the assembly steps and finally explains the Algorithms and the Code to perform all the Activities:


Movement: forward and backward movement; square-shaped movement; circular movement

Simple Collision Detection with Touch Sensors

Serial LCD:  Introduction to Serial Communications; Display Simple Messages; Alternate messages and Blink

Line Tracking


- Test and calibrate White and Black Areas
- Border Movement: Stay inside a delimited area and Ping-Pong Movement: bounce between two black lines
- Move Along a Straight Black line and a Circular Black Line
- Identifying Dead Ends and Returning to take different paths
- Multi-Line Crossing Mission: Maze solving

Edge Detection using the IR Reflection Sensors.

This Standard Edition includes Additional, Advanced Activities, not available on the POPBot Lite Edition:

Touchless Obstacle Avoidance Using the Sharp IR Distance Sensor
Object Seeking Using the Sharp IR Distance Sensor
Using and controlling a Servo Motor

The Training Sessions for the Popular Bionic Arduino Series are included in the CD.
PDF manuals introducing Arduino and the Processing Language, Full Technical Schematics for all the Boards are also on the CD.

Suggested Accessories for Advanced Applications:
---

Kit Contents:
POP-168 The Arduino-mini compatible microcontroller module
RBX-168 Robot controller board with 4-AA battery holder (batteries not included)
The combination of POP168 + RBX168 offer:

ATMEGA 168 with Arduino bootloader preloaded
ISP port
5 Multi-purpose IO ports
2 dedicated analogue ports
I2C bus
2 DC motor interfaces
2 servomotor interfaces
2 push buttons
Reset button
Piezzo Speaker for sound output

Switch input board with JST cable (2 sets)
Infrared Reflector board with JST cable (2 sets)
Serial LCD 16 characters 2 lines module with LED backlight with Cable
48:1 ratio 4.5V DC motor gearbox with IDC cable (2 sets)
Circle wheel and Tread rubber wheel set with 2mm. tapped-screw. (2 sets)
80x60 cm. and 80x80 cm. Plastic Grid plate set (2 sets)
Circle base with free ball wheel
Plastic joiner and Strip joiner set (60 pieces of 3-type mix colored plastic joiner, 4 pieces of each 3/5/12 holes of Strip joiner)
Right-angled metal shaft set (4 pieces of each 1x2, 2x2, 2x5 Right-angled metal shaft)
Nuts and Screws set
Line tracking demo paper sheet
USB-to-Serial Cable for downloading and communication
CD-ROM contains software tools, source code and documentation.
Additionally this STANDARD Version includes:

GP2D120 Infrared distance sensor with JST cable
Standard servo motor (Operating voltage is 4.8 to 7.2Vdc)