Ultimate Robot Kit-Blue
COD :
MB-90024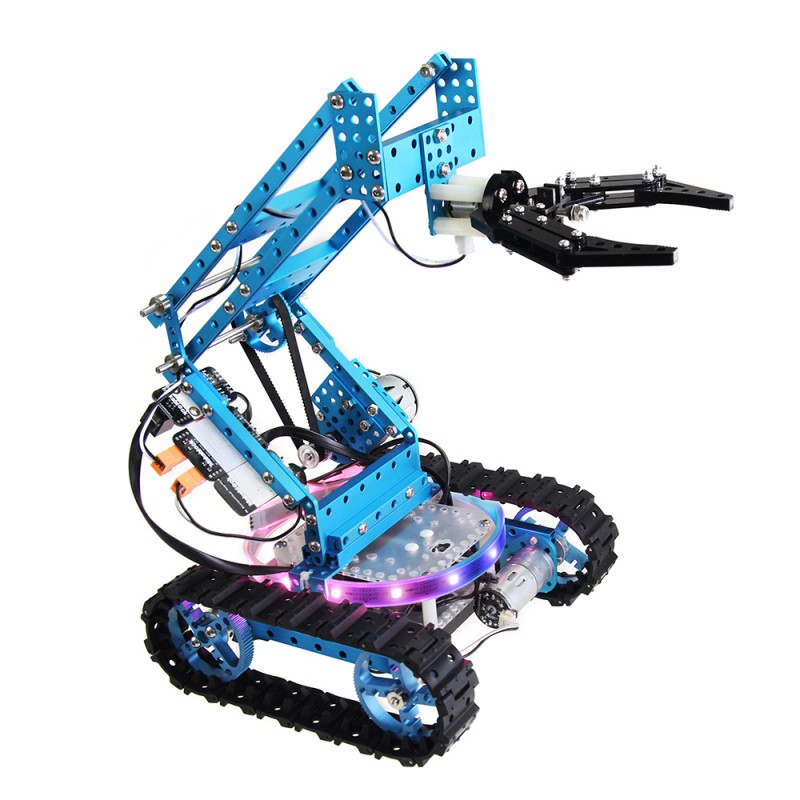 Chiedi informazioni per questo prodotto (Ask a question about this product)
---
Noted: This special offer not vaild on previous purchases, thank you for your understanding.
This is a comprehensive pick and place robot kit for beginners to explore the robotic world or experts to build complex robots. It contains everything you need to construct your robot dreams: metal geared motors, Arduino-compatible controller, programmable RGB LED strip, different kinds of sensors, robotic gripper and other mechanical parts.
It is also great for learning Arduino and Scratch programming. You can control your robot with your smart device through a Bluetooth connection. Makeblock also provides the whole set of mechanical parts for Ultimate robot kit without any electronic modules.
In this kit, you can start with the included step-by-step tutorial on building a robotic arm car or visit 3D Model of 10 other robotic projects.
Features?
?

Great for learning robotics, electronics and Arduino programming

?

Build more than 10 robotic projects

?

Aluminum extrusion structure

?

Easy wiring, no soldering required

?

Bluetooth connection lets you control your robot with your smartphone or tablet
Programming and Control:
Smart Device App Control(free of coding)

Scratch Programming(Graphical programming tool suitable for your kids)

Arduino Programming
Useful Links?
Parts List:
| | | |
| --- | --- | --- |
| 2 × Beam 0824-64 | 4 × Timing Pulley 90T | 10 × Countersunk Screw M3x8 |
| 2 × Beam 0824-80 | 2 × Timing Pulley Slice 90T B | 16× Headless Set Screw M3x5 |
| 3 × Beam 0824-96 | 1 × Gear 16 | 28 × Nut M4 |
| 2 × Beam 0824-128 | 1 × Gear 80 | 2 × Nut M8 |
| 2 × Beam 0824-144 | 4 × Tyre 68.5x22mm | 30 × Nylon lock Nut 4mm |
| 4 × Beam 0808-088 | 50 × Track | 6 × Nylon Stud M4*30 |
| 4 × Beam 0808-184 | 50 × Track Axle | 16 × Plastic Rivet R4060 |
| 4 × Plate 3x6 | 1 × Timing Belt 98MXL-123T | 12 × Plastic Rivet R4120 |
| 1 × Plate 7x9 B | 1 × Tinming Belt 240MXL-300T | 50 × Plastic Ring 4x7x2mm |
| 4 × Plate 45° | 6 × Threaded Shaft 4x39mm | 6 × Rubber band |
| 1 × Disc D72 | 2 × D Shaft 4x56mm | 1 × Me Orion(Base on Arduino UNO) |
| 2 ×  Belt Connector | 2 × D Shaft 4x128mm | 1 × Me Ultrasonic Sensor |
| 8 × Cuttable Linkage | 10 × Shaft Collar 4mm | 1 × Me Line Follower |
| 4 × Bracket 3x3 | 8 × Flange Bearing 4x8x3mm | 1 × Me Sound Sensor |
| 1 × Bracket 3x6 | 4 × Nylon Pulley with bearing | 1 × Me Dual DC Motor Driver |
| 2 × Bracket P3 | 8 × 4X8X3MM BEARING | 1 × Me Bluetooth Module (Dual Mode) |
| 2 × DC Motor-25 Bracket B | 1 × HEX Screwdriver 2.5mm | 1× LED RGB Strip |
| 1 × DC Motor-37 Bracket | 1 × Cross Screwdriver 3mm | 2 × Me Micro Switch A |
| 1 × Caster Wheel | 2 × HEX Allen Key 1.5mm | 1 × Me RJ25 Adapter |
| 2 × DC Motor-25 6V/185RPM | 1 × Wrench 7mm&5mm | 3 × 6P6C RJ25 cable-20cm |
| 1 × DC Motor-37 12V/50RPM | 1 × Plastic  Box | 3 × 6P6C RJ25 cable-35cm |
| 1 × Timing Pulley18T | 30 × Socket Cap Screw M4x8 | 1 × USB 2.0 A-Male to Micro B-Male Cable |
| 1 × Strong Robot Gripper | 40 × Socket Cap Screw M4x14 | 2 × Base Bracket  B |
| 3 × Shaft Connector-4mm | 10 × Socket Cap Screw M4x22 | 1 × Battery Holder for (6)AA |
| 2 × Timing Pulley 62T | 10 × Socket Cap Screw M4x30 | |
---
Altre immagini










Spedizioni

24h/48h/72h


Spedizioni in tutto il mondo
con tariffe ridotte
Info line
orario continuato
dal lunedì al venerdì
10:00-16:00


(0039) 06 76971136
Le informazioni riportate su robot-domestici.it possono essere soggette a modifiche senza preavviso, alcune immagini sono a titolo indicativo.
Tutti i marchi citati sono di proprietà delle rispettive case.
ROBOT DOMESTICI INDUSTRIES di ARMANDO PALIANI - Via Cornelio Labeone, 76 - 00174 Roma (RM)
P.I. IT12960231004 - C.F. PLNRND74R03G763Q - REA di Roma n. RM 1413309
CODICE UNIVOCO PER LA FATTURAZIONE ELETTRONICA: KRRH6B9
Telefono 06 76971136 - Fax 06 62283886