Adafruit IoT Printer Project Pack
Adafruit IoT Printer Project Pack "Internet of Things" printer -
COD : AF-717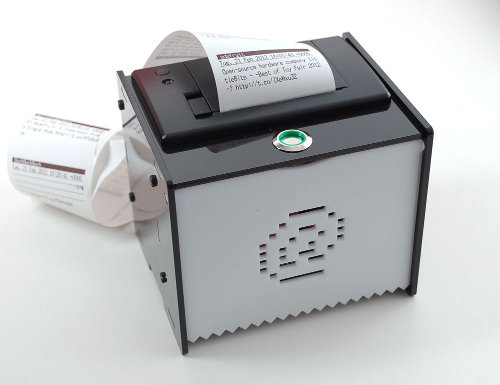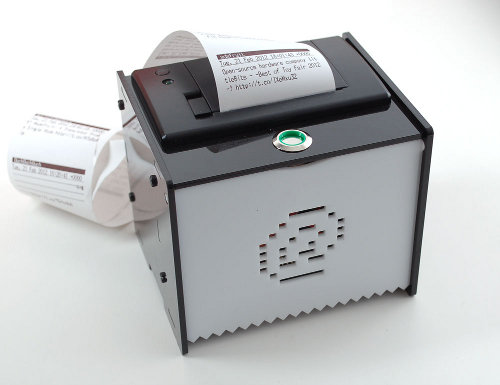 Build an "Internet of Things" connected mini printer that will do your bidding!
This is a fun weekend project that comes with a beautiful laser cut case.
Once assembled, the little printer connects to Ethernet to get Internet data for printing onto 2 1/4" wide receipt paper.
The example sketch we've written will connect to Twitter's search API and retrieve and print tweets according to your requests: you can have it print out tweets from a person, a hashtag, mentioning a word, etc! Once you've gotten that working, you can of course easily adapt our sketch to customize the printer.

The project is not very difficult but does require some light soldering, so you'll want to have a little experience with a soldering iron. You'll also need a small flathead screwdriver to assemble the box. It's also best if you've had a little Arduino experience so you can feel comfortable downloading the IDE and uploading our example sketch.

Contains:
Mini Receipt Printer
50 foot long receipt paper. BPA-free.
5V 2A power adapter
2.1mm Panel Jack
Waterproof metal On/Off button
Extra long header piece
Ribbon cable
1/8" heat shrink
Laser cut enclosure + hardware
Dimensions when completed: 4.85" wide x 4" deep x 4" tall (125mm wide x 102mm deep x 102mm tall)
This pack does not contain an Arduino+Arduino Ethernet Shield, Arduino Ethernet or Ethernet cable To complete the project you will need to add either an Arduino + Ethernet Shield or an Arduino UNO Ethernet.
If you're using an Arduino UNO Ethernet you will also need an FTDI friend or FTDI cable to upload the sketch.
A plain straight-thru Ethernet cable is also required (any length)

Before purchasing, please check out the full tutorial with images, code, etc!
Dim lights Embed Embed this video on your site
---
FORSE POTRESTI ESSERE INTERESSATO A QUESTO(I) PRODOTTO(I)
---


| | |
| --- | --- |
| 29,97 € | (excl. VAT) |
| 36,56 € | (incl. IVA) |

| | |
| --- | --- |
| 24,35 € | (excl. VAT) |
| 29,71 € | (incl. IVA) |

| | |
| --- | --- |
| 60,00 € | (excl. VAT) |
| 73,20 € | (incl. IVA) |
Ultimo Aggiornamento: 11/07/2020 20:00
Immagini
Le informazioni riportate su robot-domestici.it
possono essere soggette a modifiche senza preavviso, alcune immagini sono a titolo indicativo.
Tutti i marchi citati sono di proprietà delle rispettive case e produttori.

Sede legale
ROBOT DOMESTICI INDUSTRIES di ARMANDO PALIANI - Via Cornelio Labeone, 76 - 00174 Roma (RM)
P.I. IT12960231004 - C.F. PLNRND74R03G763Q - REA di Roma n. RM 1413309
CODICE UNIVOCO PER LA FATTURAZIONE ELETTRONICA: KRRH6B9
Tel. (+39) 06 76971136 | e-mail: info@robot-domestici.it