Raspberry Pi Zero Starter Pack
COD :
AF-2816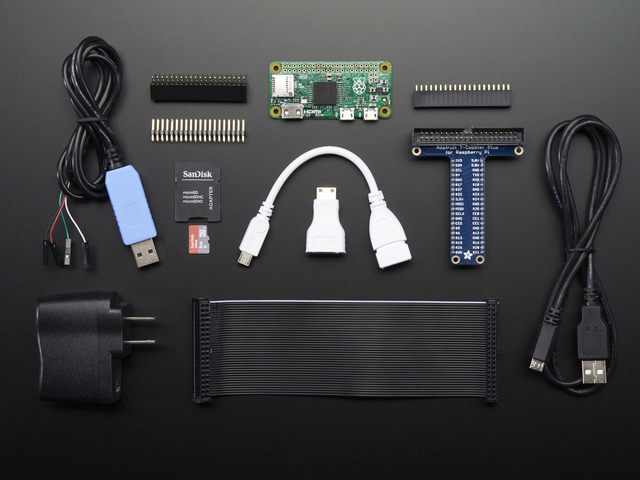 Chiedi informazioni per questo prodotto (Ask a question about this product)
---
Note: Due to popular demand, there might be some delay in shipping products containing Pi Zero!
Note: As of Monday, May 16th, this product is now shipping with Version 1.3 of the Pi Zero!
Remember those cereal commercials that would always say, "part of a complete breakfast"? Well the Pi Zero s a lot like that bowl of cereal - while it s great on its own, you need a lot of accessories to make it a complete meal.
The Pi Zero Starter Pack is everything you need to get going with your Pi Zero and make it a complete meal. Check out our writeup on the Pi Zero over at the Adafruit Learning System
This full-featured pack includes:
Raspberry Pi Zero - the type of low cost game-changing product Raspberry Pi s known for - a super light, super lean microcomputer
8GB Class 10 SD Card - A SD card that s perfect for burning Raspbian Jessie for the Pi Zero
Mini HDMI to HDMI Adapter - Will let you convert the little port on the Zero to a standard sized HDMI jack. You can get 1080P HDMI video + audio out of this little computer!
USB OTG Cable - Lets you plug in a normal USB device such as WiFi dongle, USB hub, keyboard, mouse, etc into the Zero.
5V 1A Power Supply & USB A/Micro B Cable OR 5V 2A Power Supply w/ Micro USB Cable - the best way to power up your Pi Zero with a stable 5V power supply that wont vary or sag.
Assembled Pi T-Cobbler Plus - Solder in the classic 2x20 male header & connect your GPIO cable, and breakout all that tasty power onto a solderless breadboard.
2x20 Male Header - Solder this in to plug in Pi HATs, GPIO cables, etc as you would into a normal Pi.
2x20 Female Header - This one s neat - if you solder on a 2x20 female header upside down you can plug the Pi right into the T-Cobbler in an adorable fashion! No GPIO cable required
2x20 Female Header (right angle) - Kinda like the above but the Pi sticks right up.
WiFi dongle - this chipset is the most common one used for the Raspberry Pi, works great! The best way to get your Pi Zero hooked up to the internet to start IoTing
USB Console cable - if you re not going to stick an HDMI monitor on there, then this is essential, you connect the wires to the GPIO pins and log in over a serial console. Its the easiest & fastest way to get on your Pi
We also strongly recommend some other parts and pieces to make your Pi Zero computing experience easier (THESE ARE NOT INCLUDED!)
Spedizioni

24h/48h/72h


Spedizioni in tutto il mondo
con tariffe ridotte
Info line
orario continuato
dal lunedì al venerdì
10:00-16:00


(0039) 06 76971136
Le informazioni riportate su robot-domestici.it possono essere soggette a modifiche senza preavviso, alcune immagini sono a titolo indicativo.
Tutti i marchi citati sono di proprietà delle rispettive case.
ROBOT DOMESTICI INDUSTRIES di ARMANDO PALIANI - Via Cornelio Labeone, 76 - 00174 Roma (RM)
P.I. IT12960231004 - C.F. PLNRND74R03G763Q - REA di Roma n. RM 1413309
CODICE UNIVOCO PER LA FATTURAZIONE ELETTRONICA: KRRH6B9
Telefono 06 76971136 - Fax 06 62283886