RAKwireless RAK831 Lora/LoRaWan Gateway Developer Kit with Raspb
COD : AZ-B07NYFGG4Q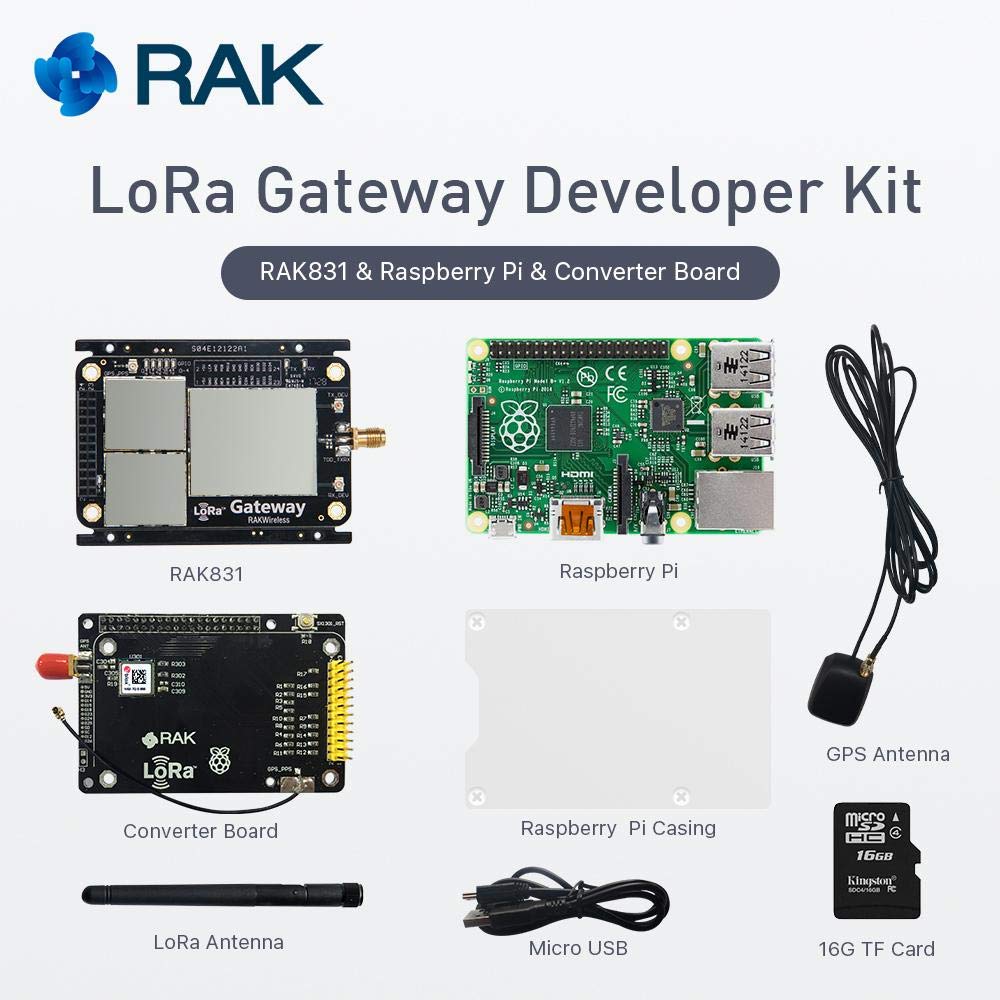 RAK831 is an RF front end of a LoRa gateway. It is able to receive on different frequency channels at the same time and is able to demodulate the LoRa signal without knowledge of the used spreading factor of the sending node. With the compact design, this is an ideal module product to help you realise the whole LoRa system development. With the USB-SPI converter module FT2232, you can quickly develop the software on your PC. Also, you can integrate the concentrator module in your production products to realise the LoRa gateway function. This is an economical way to address for a huge variety of applications like smart grids, intelligent farming, and other Internet of Things (IoT) applications. The RAK831 needs a host system like Raspberry Pi or WasAP (OpenWRT based) or WisCam for proper operation. the host processor can be a PC or MCU that will connected to RAK831 via USB or SPI. Kit Includes RAKwireless RAK831 Raspberry Pi 3 Model B GPS Antenna Converter Board Raspberry Pi Casing LoRa Antenna Micro USB Cable 16GB TF Card Frequency Bands 433 Frequency Band: 433MHz - 435MHz 470 Frequency Band RX: 470MHz - 490MHz TX: 490MHz - 510MHz EU868 Frequency Band: 865MHz - 872MHz AS923 Frequency Band: 923MHz - 925MHz AU915 Frequency Band: 915MHz - 928MHz US915 Frequency Band: 902MHz - 928MHz TF Card details The TF card contains all the necessary drivers and TTN gateway code pre-installed for developers to get their gateways up and running in no time.
Ultimo Aggiornamento: 07/06/2020 02:53
Immagini
Le informazioni riportate su robot-domestici.it
possono essere soggette a modifiche senza preavviso, alcune immagini sono a titolo indicativo.
Tutti i marchi citati sono di proprietà delle rispettive case e produttori.

Sede legale
ROBOT DOMESTICI INDUSTRIES di ARMANDO PALIANI - Via Cornelio Labeone, 76 - 00174 Roma (RM)
P.I. IT12960231004 - C.F. PLNRND74R03G763Q - REA di Roma n. RM 1413309
CODICE UNIVOCO PER LA FATTURAZIONE ELETTRONICA: KRRH6B9
Tel. (+39) 06 76971136 | e-mail: info@robot-domestici.it