Dual SATA HAT for Raspberry Pi 4
COD : SE-114992115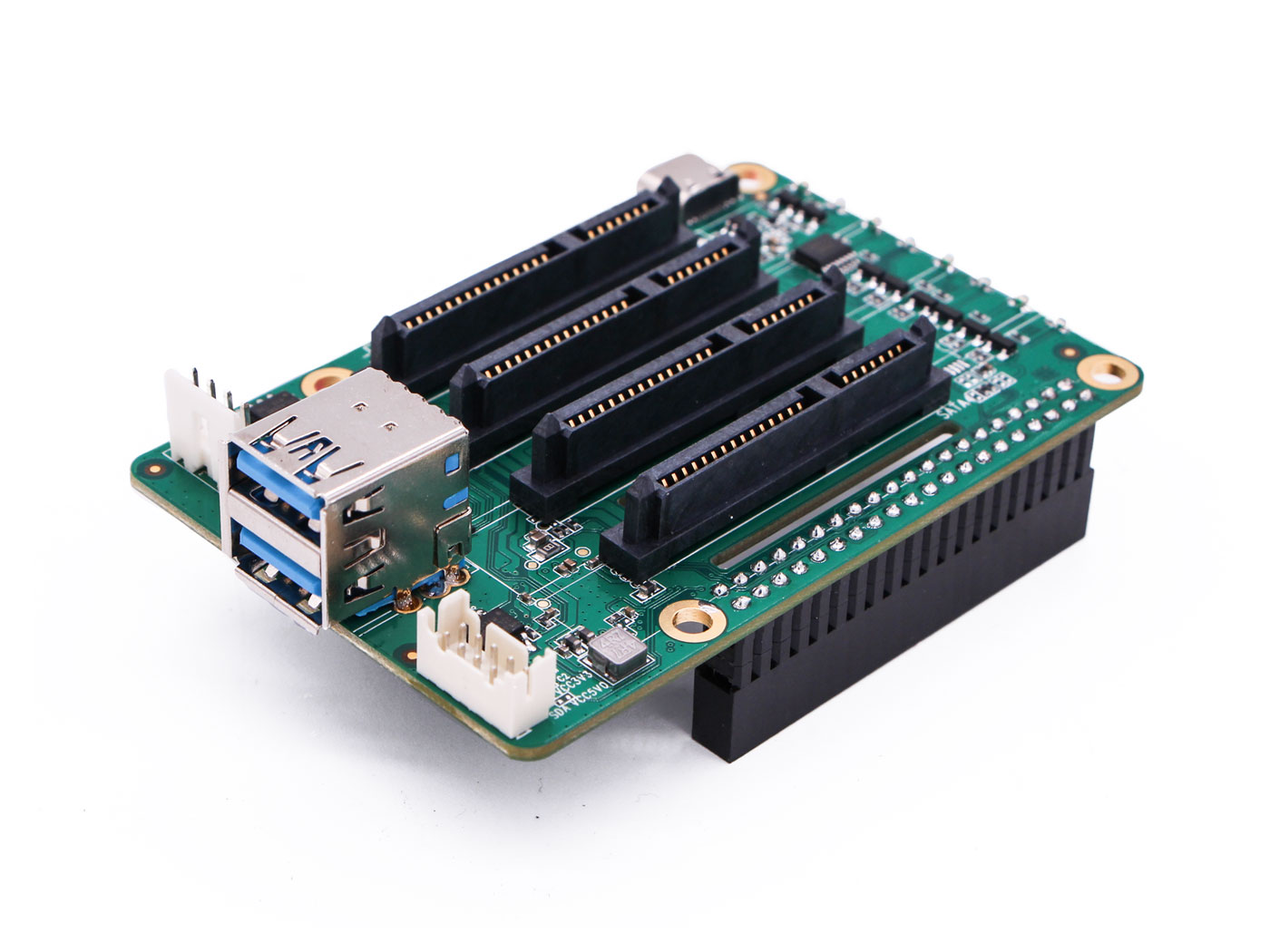 | | |
| --- | --- |
| 37,50 € | (excl. VAT) |
| 45,75 € | (incl. IVA) |

quantit&agrave disponibile: 1
Key Features
Up to 2x HDD/SSD´s - 2.5 or 3.5inch storage is supported
Utilizes two independent USB3 buses on Raspberry Pi 4
Type C power input with USB PD/QC support for 2.5inch drives and Raspberry Pi 4
External standard ATX power supply support for 3.5inch HDD
Fan and heatsink for Raspberry Pi 4 CPU cooling
HDD suspend mode supported
UASP support
Software RAID 0/1/5 support
Optional PWM control fan for HDD heat dispatching
Optional OLED display for IP Address/Storage info
Description
Are you worried about your Raspberry Pi 4 that they don t have enough storage?  Here is a HAT for Raspberry Pi 4 which you can use the SATA port HDD to extend your Pi storage. 
For 3.5inch HDD setups, a standard ATX PSU is required to power the HDD´s and the Raspberry Pi. With 2x 3.5inch HDD´s the PSU should provide at least 60W or more.
For 2.5inch HDD setups, the USB PD/QC power adapter ( >=30W power adapter ) is sufficient to power the disk drives and the Raspberry Pi 4 together. It is important to mention that the power connector on the SATA HAT must be used to power up the NAS with Raspberry Pi 4.
The Dual SATA HAT utilizes two high-performance JMS561 (one JMS561 for the Dual SATA HAT) and provides up to 400MB/s read/write performance with four disks in RAID0 mode.
Hardware Overview
Part List
 Dual  SATA HAT board
 USB3.0 Connection adapter
 2x SATA cable 
Ultimo Aggiornamento: 18/09/2020 07:11
Immagini
Le informazioni riportate su robot-domestici.it
possono essere soggette a modifiche senza preavviso, alcune immagini sono a titolo indicativo.
Tutti i marchi citati sono di proprietà delle rispettive case e produttori.

Sede legale
ROBOT DOMESTICI INDUSTRIES di ARMANDO PALIANI - Via Cornelio Labeone, 76 - 00174 Roma (RM)
P.I. IT12960231004 - C.F. PLNRND74R03G763Q - REA di Roma n. RM 1413309
CODICE UNIVOCO PER LA FATTURAZIONE ELETTRONICA: KRRH6B9
Tel. (+39) 06 76971136 | e-mail: info@robot-domestici.it