Wireless Mach3 MPG XHC HB04 Manual Pulse Generator
COD :
AZ-XHCHB04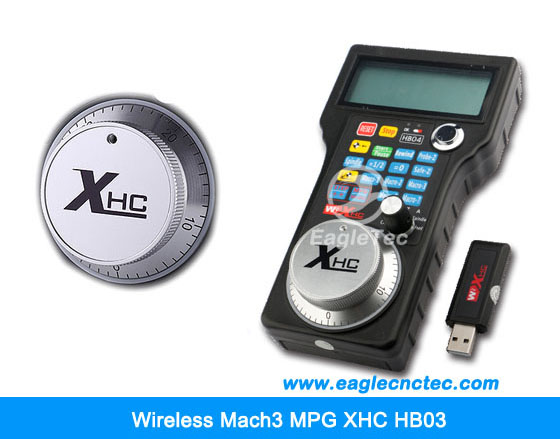 Chiedi informazioni per questo prodotto (Ask a question about this product)
---
This product is wireless Mach3 MPG model - XHC HB04. MPG is short for manual pulse generator. It has other name like wireless hand wheel or wireless remote. MPG XHC-HB04 is an optional device for Mach3 usb cnc controller. It makes the origin point setting operation more convenient. Every woodworker knows, we have to be very close to the spindle to see clearly and set z origin accurately when set origin point for work piece. If without the Mach3 MPG, we must do origin setting via the computer, result is that we cannot see clearly the z position because computer will have a distance with cnc router. The wireless Mach3 MPG is to solve this problem. You can be very close to the spindle with the MPG in your hand, and set the origin. So, it optimized the operation of z origin point setting.
Installation: USB receiver is inserted in the USB interface of your computer or laptop, and then the receiver and Mach3 MPG are automatically paired just like usb receiver and wireless mouse.
Besides wireless Mach3 MPG, another option for you is Mach3 pendant XHC HB04 with 5 meters usb wire


Application
MGP XHC-HB04 is a machine tool accessory product designed for Mach3 system. It is widely used on cnc router engraving machines, cnc milling machines, cnc grinding machines and other cnc equipments.
Mach3 MPG XHC HB04 Features
1) Magnet design on the back side makes it easy to be adsorbed on the cnc machine.
2) Workpiece coordinates and mechanical coordinates display function. Can display XYZ three axes coordinates together.
3) With axis selection function, through the band axis selection switch, you can choose X, Y, Z axis, and adjust the coordinate of each axis.
4) It has the function of go home and go to work piece origin point.
5) It has the function of feed speed regulation and shows the corresponding feed rate.
6) It has spindle on/off function.
Technical Parameter
Item Name: Mach3 MPG wireless
Model Number: XHC-HB04
Applicable Controller: Mach3, support 4-axis
Power Supply: 3V, AA size battery 2PCS
Transmitting Power: 0DB
Receiving Sensitivity: -98DB
Max. Working Distance: 40 meters
Working Frequency: 2.4G Hz
Packing Dimension: 105x109x55mm


Full set wireless Mach3 MPG is consisted by following parts:

Wireless MPG  1PC
USB Receiver  1PC
CD            1PC
Manual Book 1PC

Spedizioni

24h/48h/72h


Spedizioni in tutto il mondo
con tariffe ridotte
Info line
orario continuato
dal lunedì al venerdì
10:00-16:00


(0039) 06 76971136
Le informazioni riportate su robot-domestici.it possono essere soggette a modifiche senza preavviso, alcune immagini sono a titolo indicativo.
Tutti i marchi citati sono di proprietà delle rispettive case.
ROBOT DOMESTICI INDUSTRIES di ARMANDO PALIANI - Via Cornelio Labeone, 76 - 00174 Roma (RM)
P.I. IT12960231004 - C.F. PLNRND74R03G763Q - REA di Roma n. RM 1413309
CODICE UNIVOCO PER LA FATTURAZIONE ELETTRONICA: KRRH6B9
Telefono 06 76971136 - Fax 06 62283886