SparkFun Qwiic Starter Kit for Raspberry Pi
COD :
SF-KIT-15231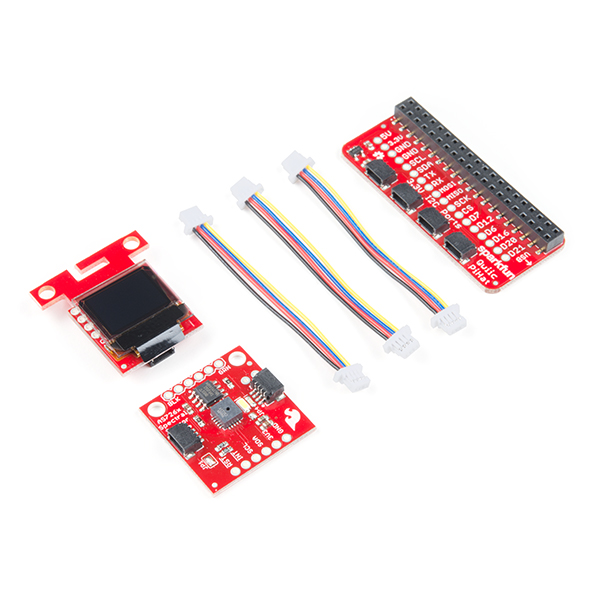 Chiedi informazioni per questo prodotto (Ask a question about this product)
---
Please be aware that the SparkFun Qwiic Starter Kit for Raspberry Pi WAS available for a limited time for our "Pi Day 2019" event. It was priced accordingly due to the fact that we only had a limited amount of stock available. Unfortunately, the promotion is currently sold out and is no longer available to be added to your cart for free.
Ready to get started with Raspberry Pi and Qwiic this Pi Day? We have everything needed to get you started using Qwiic on your Raspberry Pi. The Raspberry Pi Qwiic Starter Kit includes the Qwiic HAT for Raspberry Pi which adds 4 Qwiic connectors to your Pi, it also includes a RFD77402 Distance Sensor Breakout and the Environmental Combo breakout and plenty of Qwiic Cables to connect everything together.
The Qwiic system makes I2C on your Raspberry Pi a breeze. All you need is a Raspberry Pi with 2x20 GPIO header to plug the HAT into. Make sure to check the Includes tab to see everything that comes in the box!
---
The SparkFun Qwiic connect system is an ecosystem of I2C sensors, actuators, shields and cables that make prototyping faster and less prone to error. All Qwiic-enabled boards use a common 1mm pitch, 4-pin JST connector. This reduces the amount of required PCB space, and polarized connections mean you can't hook it up wrong.
---
Includes:
Documents:
Hookup Guides
Raspberry Pi Tutorials
Spedizioni

24h/48h/72h


Spedizioni in tutto il mondo
con tariffe ridotte
Info line
orario continuato
dal lunedì al venerdì
10:00-16:00


(0039) 06 76971136
Le informazioni riportate su robot-domestici.it possono essere soggette a modifiche senza preavviso, alcune immagini sono a titolo indicativo.
Tutti i marchi citati sono di proprietà delle rispettive case.
ROBOT DOMESTICI INDUSTRIES di ARMANDO PALIANI - Via Cornelio Labeone, 76 - 00174 Roma (RM)
P.I. IT12960231004 - C.F. PLNRND74R03G763Q - REA di Roma n. RM 1413309
CODICE UNIVOCO PER LA FATTURAZIONE ELETTRONICA: KRRH6B9
Telefono 06 76971136 - Fax 06 62283886