Multilayer Ceramic Capacitor - 0.033uF/50V
COD : SF-COM-15559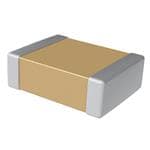 Multilayer Ceramic Capacitors MLCC - SMD/SMT 50V 0.033uF 0603 X7R 10%
The KEMET electrostatic discharge (ESD) rated commercial and automotive grade surface mount capacitors in X7R dielectric are suited for a variety of applications where electrostatic discharge (ESD) events during assembly or operation could damage the capacitor or the circuit. These ESD rated capacitors provide the ability to design within a given ESD criteria per the human body model (HBM) AEC Q200–002 criteria. The KEMET automotive grade capacitors also meet the other demanding Automotive Electronics Council s AEC–Q200 qualification requirements.
The X7R dielectric features a 125°C maximum operating temperature and is considered "temperature stable." The Electronics Industries Alliance (EIA) characterizes X7R dielectric as a Class II material. Components of this classification are fixed, ceramic dielectric capacitors, suited for bypass and decoupling applications and for frequency discriminating circuits, where Q and stability of capacitance characteristics are not critical. The X7R dielectric exhibits a predictable change in capacitance with respect to time and voltage, and boasts a minimal change in capacitance compared to its value at 25°C. Capacitance change is limited to ±15% from −55°C to +125°C.
Dimensions: 1.6 x 0.8 x 0.8 mm
One quantity of this product is a single capacitor.
Documents:
Ultimo Aggiornamento: 28/05/2020 19:12
Immagini
Le informazioni riportate su robot-domestici.it
possono essere soggette a modifiche senza preavviso, alcune immagini sono a titolo indicativo.
Tutti i marchi citati sono di proprietà delle rispettive case e produttori.

Sede legale
ROBOT DOMESTICI INDUSTRIES di ARMANDO PALIANI - Via Cornelio Labeone, 76 - 00174 Roma (RM)
P.I. IT12960231004 - C.F. PLNRND74R03G763Q - REA di Roma n. RM 1413309
CODICE UNIVOCO PER LA FATTURAZIONE ELETTRONICA: KRRH6B9
Tel. (+39) 06 76971136 | e-mail: info@robot-domestici.it