Radio Telemetry Kit 433 Mhz
COD :
DO-WIR0795A09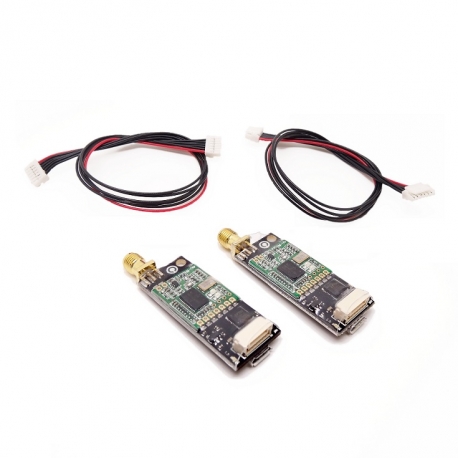 Chiedi informazioni per questo prodotto (Ask a question about this product)
---
Radio Telemetry Kit (433Mhz or 915Mhz)
The Drotek telemetry system base on 3DR Radio system and 100% compatible. It's designed as an open source Xbee replacement radio set, offering a lower price, longer range (approx one mile) and superior performance to Xbee radios.
It's available in 433Mhz or 915Mhz and in the following configurations:  serial board (for the air) and USB (for the ground). The system provides a full-duplex link  using HopeRF's HM-TRP modules running custom, open source firmware.  Interface to the module is via standard 5V-tolerant TTL serial / FTDI USB serial.
Firmware upgrades and configuration are fully supported in the APM Mission Planner. Configuration is also possible through the 3DR Radio configurator and AT commands.
HM-TRP features:
Small size and light weight
Available in 433Mhz and 915MHz variants
Receiver sensitivity to -121 dBm
Transmit power up to 20dBm (100mW)
Transparent serial link
Air data rates up to 250kbps
MAVLink protocol framing and status reporting
Frequency hopping spread spectrum (FHSS)
Adaptive time division multiplexing (TDM)
Configurable duty cycle
Built in error correcting code (can correct up to 25% data bit errors)
Demonstrated range of several kilometers with a small omni antenna
Can be used with a bi-directional amplifier for even more range
Open source firmware
AT commands for radio configuration
RT commands for remote radio configuration
Based on the HopeRF HM-TRP radio module, with an SiLabs Si1000 RF microcontroller
Transmit current: 100 mA at 20 dBm
Receive current: 25 mA
Board features:
Supply voltage: 3.3-5 VDC
Serial interface: 3.3 V UART
JST-GH connector
Micro USB port
SMA connector
Weight: 6g
17 mm x 52 mm
Designed and manufactured in France
Package content:
Telemetry module x2
JST-GH 6Pin cable x2
Download

:



Attention: Frequency/power level regulations vary by country, so consult your local airspace authority to find out which frequency and power level are legal in your area.
In Europe you should use the 433 MHz
Spedizioni

24h/48h/72h


Spedizioni in tutto il mondo
con tariffe ridotte
Info line
orario continuato
dal lunedì al venerdì
10:00-16:00


(0039) 06 76971136
Le informazioni riportate su robot-domestici.it possono essere soggette a modifiche senza preavviso, alcune immagini sono a titolo indicativo.
Tutti i marchi citati sono di proprietà delle rispettive case.
ROBOT DOMESTICI INDUSTRIES di ARMANDO PALIANI - Via Cornelio Labeone, 76 - 00174 Roma (RM)
P.I. IT12960231004 - C.F. PLNRND74R03G763Q - REA di Roma n. RM 1413309
CODICE UNIVOCO PER LA FATTURAZIONE ELETTRONICA: KRRH6B9
Telefono 06 76971136 - Fax 06 62283886