NeTV2 - Open Video Development Board
COD :
AF-4248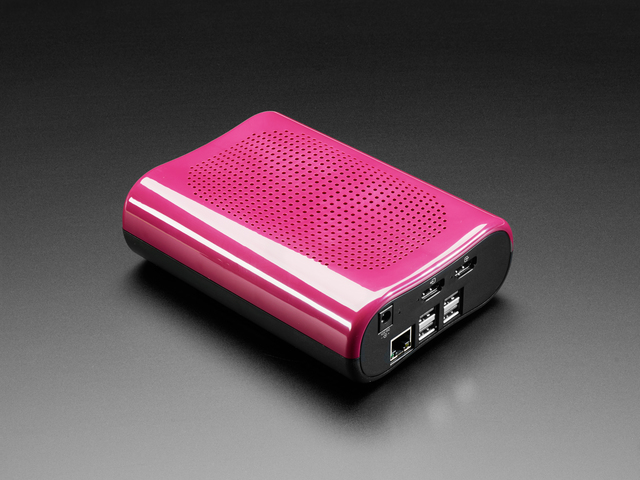 Chiedi informazioni per questo prodotto (Ask a question about this product)
---
For cutting edge HDMI development, the NeTV2 is the only tool that lets you overlay your own data on top of HDMI, even encrypted streams! The NeTV2 is the next generation after the original NeTV we've been stocking for a while. This upgaded version is an add-on board for a Raspberry Pi computer, so you get the benefit of a Linux runtime for development with the power of FPGA video encoding.
NeTV2 is the first offering from the brand new Alphamax, the Open Source Hardware company led by "bunnie" Huang. bunnie is best known as the author of "Hacking the XBox" and was the lead hardware engineer of the chumby internet alarm clock. So, it is no surprise that his latest invention, conceived in Alphamax's office in South Korea, is a fully open source HDTV peripheral which brings WiFi Internet and Android mobile interfacing to any HDMI TV!
The NeTV2 design targets two major use scenarios, referred to as "NeTV classic" mode (video overlays with encryption) and "libre" mode (deep video processing, but limited to unencrypted feeds due to Section 1201).

NeTV2 enables overlaying your web content on existing HDMI video feeds, such as those from a BluRay player or cable box. Inside, it's an Angstrom linux box running Webkit that features chroma-key video compositing. Out of the box, the reference firmware enables the overlay of Facebook and Twitter feeds, and SMSes from Android phones. The UI is written in Javascript/HTML, making it easy and fast to develop your custom application.

The system also features a convenient HTTP API which uses POST commands to issue events to the screen and control device behavior. This, combined with zeroconf discoverability via Bonjour, makes integrating NeTV with other networked devices (such as your smartphone or laptop) a snap.

FPGA geeks take note! NeTV does video compositing with an FPGA. The FPGA is managed using a convenient set of built-in command-line tools. You can modify the NeTV's video processing capability using Xilinx's free Webkit development environment. Or, you can repurpose the FPGA for entirely new functionality; the sky's the limit!

Summary of development environment options for NeTV2:
UI & application development in Javascript/HTML running on Webkit
Remote control using iOS/Android reference apps via HTTP API
Command line and kernel development via downloadable gcc environment, or via cloud-based "pre-built" Amazon EC2 environment.
Verilog/VHDL hardware development on FPGA via Xilinx Webpack tools
Solder-and-screws hardware development enabled via open source hardware stack
Get your NeTV2 on with this full pack that includes everything you need to start! This complete kit comes fully assembled and contains:
NeTV2 PCB Dev board
NeTV2 plastic enclosure kit: This is the plastic enclosure for a NeTV PCB. Designed with extra empty space with an array of M2.5 mounting bosses on a 30mm grid. These let you add an extra board or component to the system without having to redesign the entire case.
12V 1A wall plug power supply
Spedizioni

24h/48h/72h


Spedizioni in tutto il mondo
con tariffe ridotte
Info line
orario continuato
dal lunedì al venerdì
10:00-16:00


(0039) 06 76971136
Le informazioni riportate su robot-domestici.it possono essere soggette a modifiche senza preavviso, alcune immagini sono a titolo indicativo.
Tutti i marchi citati sono di proprietà delle rispettive case.
ROBOT DOMESTICI INDUSTRIES di ARMANDO PALIANI - Via Cornelio Labeone, 76 - 00174 Roma (RM)
P.I. IT12960231004 - C.F. PLNRND74R03G763Q - REA di Roma n. RM 1413309
CODICE UNIVOCO PER LA FATTURAZIONE ELETTRONICA: KRRH6B9
Telefono 06 76971136 - Fax 06 62283886