Creality 3D - CR-10S Pro ( 300 x 300 x 400 mm build volume )
COD :
RR-CR10SPRO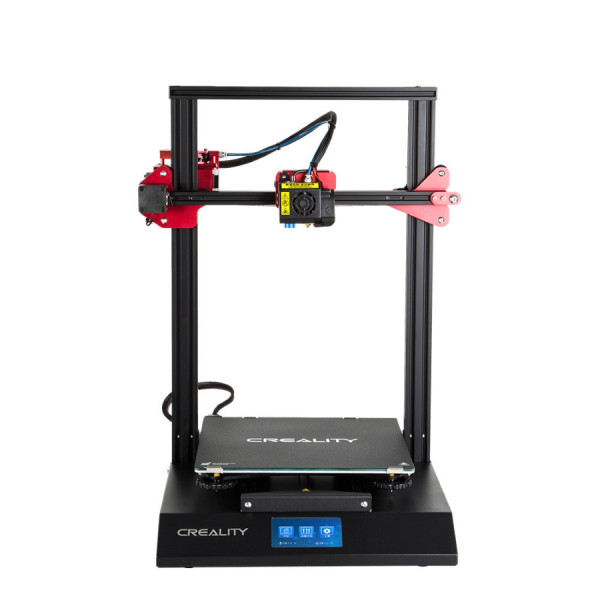 | | |
| --- | --- |
| 489,67 € | (excl. VAT) |
| 597,40 € | (incl. IVA) |
Disponibilità :

| | |
| --- | --- |
| | spedito in 3-7 giorni |
quantit&agrave disponibile:
1
Chiedi informazioni per questo prodotto (Ask a question about this product)
---
The CR-10S Pro is packed with new features, including a fully improved and integrated filament runout detection system (so you never lose a print when your filament runs out), a dual-sided set of hobbed drive gears for extra filament grip, and upgraded hotend and more powerful radial fan for improved print cooling. This fan might be the loudest sound you hear, since the stepper drivers have been upgraded to the quiet TMC2208s using 256 microstep interpolation.
The design is clean, professional and portable given that the wiring, power supply and hi-res LCD panel are now integrated into the black brushed aluminum base enclosure. A high-accuracy capacitive sensor is installed within the toolhead compartment to assist with the manual bedplate leveling process and allows for 16 point mesh compensation (linearly interpolated). The heater bed now has a strong adhesive PEI-type surface for extra stick. Taken altogether: no more print warping or detachment!
The CR-10S Pro kit is professionally packaged and contains only two logical sections (the horizontal and vertical frame) that can be assembled in minutes using only a few screws; the tools are included, and hardware experience is not required. Most of the frame is made from black aluminum V-slot extrusions and in combination with the bowden system for the extruder, results in an efficient, sturdy frame with 0.1mm Z-axis print precision. The dual sided lead screws on the Z-axis ensure good layer stacking and thus high quality prints.
For new 3D printing enthusiasts: 3D printers runs off of so-called "gcode" files, which are generated from free software slicers such as Slic3r or Cura. Most modern printers (including Crealitys) can run their gcode prints either via an integrated SD or mini-USB slot for stand-alone printing, or from a seperate PC or laptop via the USB slot. In case of power failure, Creality s printers have a "recovery" mode that allows for resuming the print from the LCD interface once power is restored, an essential sanity-saving feature to avoid the frustration of wasted time and filament.
A small "starter" spool of filament is included in the kit, but it won t last long! We recommend including in your purchase a larger spool of Real filament or a multi-color [%insert name="link" type="PRD" src="/joomla/1728" content="PLA sample pack" title="PLA sample pack" %] to assist you in your upcoming exploration of all the colorful things you can print with your new Creality!
The kit includes the following items:
Power cable
USB cable
Spare pneufit coupling
Spatula
Filament cutter
USB-stick with SD card
Sample PLA for testing
Assembly tools
Spedizioni

24h/48h/72h


Spedizioni in tutto il mondo
con tariffe ridotte
Info line
orario continuato
dal lunedì al venerdì
10:00-16:00


(0039) 06 76971136
Le informazioni riportate su robot-domestici.it possono essere soggette a modifiche senza preavviso, alcune immagini sono a titolo indicativo.
Tutti i marchi citati sono di proprietà delle rispettive case.
ROBOT DOMESTICI INDUSTRIES di ARMANDO PALIANI - Via Cornelio Labeone, 76 - 00174 Roma (RM)
P.I. IT12960231004 - C.F. PLNRND74R03G763Q - REA di Roma n. RM 1413309
CODICE UNIVOCO PER LA FATTURAZIONE ELETTRONICA: KRRH6B9
Telefono 06 76971136 - Fax 06 62283886