Flash Forge Finder Wifi ( 140x140x140 mm buildvolume )
COD :
RR-FLASHFORGENF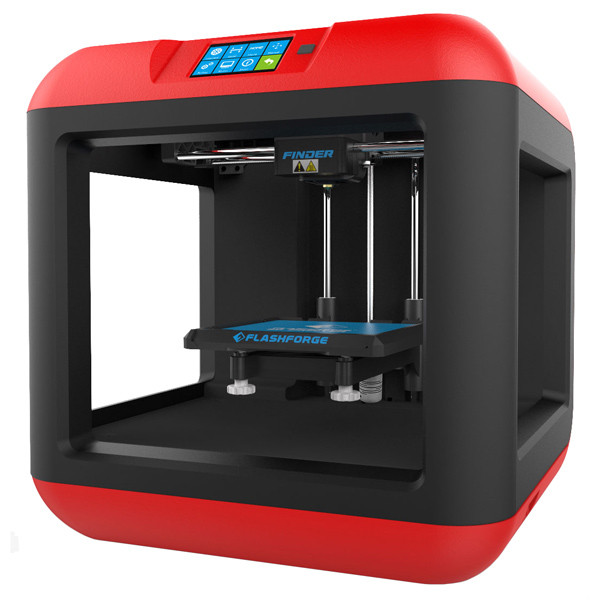 | | |
| --- | --- |
| 283,06 € | (excl. VAT) |
| 345,33 € | (incl. IVA) |
Disponibilità :

| | |
| --- | --- |
| | spedito in 3-7 giorni |
quantit&agrave disponibile:
3
Chiedi informazioni per questo prodotto (Ask a question about this product)
---
The FlashForge Finder Wifi (Gen 2) heralds the arrival of low cost plug and play 3D printers. This machine can be unpacked and be ready to print within minutes! For its price, the Finder demonstrates impressive print quality and quiet enough operation to blend into any home or office environment.
The multi-language LCD interface, assisted calibration routine and supplied slicer software gives this machine a very quick learning curve and is an easy introduction to 3D printing for curious adults and young inventors alike. The 140x140x140mm print volume is large enough for the majority of freely downloadable online models.
While only FlashForge s branded filament spools will fit inside the Finder s integrated filament compartment, the compartment isn t required, and any brand of filament can be used externally (external spoolholders available [%insert name="link" type="PRD" src="/joomla/1196" content="here" title="3D Printed" %] or [%insert name="link" type="PRD" src="/joomla/2146" content="here" title="injection molded" %]). The max nozzle temperature of lack of heater bed limits the filament option primarily to PLA and PLA compounds (woodfill, etc..). PETG can also be used at slightly slower speeds along with extra bed adhesive such as our [%insert name="link" type="PRD" src="/joomla/2044" content="3D LAC spray" title="3D LAC spray" %].
This machine is sure to see a lot of mileage no matter the age or skill of the operator.
Specifications:
Package size: 420 x 420 x 420 mm
Print volume: 140 x 140 x 140 mm
Weight: 20 kg
Nozzle size: 0.4 mm
Filament type: 1.75 mm
Layer height: 0.1 - 0.4mm
XY accuracy: 11 microns
Z accuracy: 2.5 microns
Power: 230V / 115V
Software: Win7 / 8 / Vista ; MacOS
Connectivity: Wi-fi ; USB Drive or Cable
Language: English / Chinese
Spedizioni

24h/48h/72h


Spedizioni in tutto il mondo
con tariffe ridotte
Info line
orario continuato
dal lunedì al venerdì
10:00-16:00


(0039) 06 76971136
Le informazioni riportate su robot-domestici.it possono essere soggette a modifiche senza preavviso, alcune immagini sono a titolo indicativo.
Tutti i marchi citati sono di proprietà delle rispettive case.
ROBOT DOMESTICI INDUSTRIES di ARMANDO PALIANI - Via Cornelio Labeone, 76 - 00174 Roma (RM)
P.I. IT12960231004 - C.F. PLNRND74R03G763Q - REA di Roma n. RM 1413309
CODICE UNIVOCO PER LA FATTURAZIONE ELETTRONICA: KRRH6B9
Telefono 06 76971136 - Fax 06 62283886