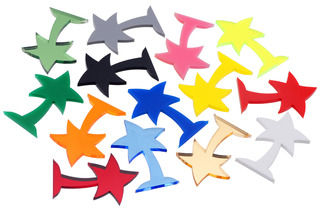 Laser-cut Pololu logos in a variety of colors of acrylic.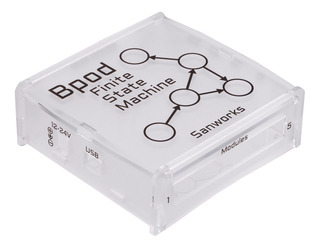 Laser-cut and UV-printed acrylic enclosure.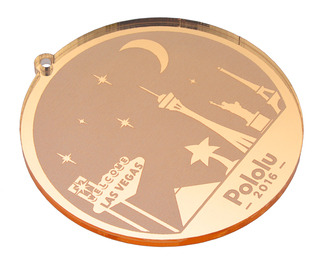 Pololu ornament, laser-cut and reverse-engraved on mirrored acrylic.
Laser cutting is ideal for quickly making custom parts out of sheets of plastic, wood, card stock, rubber, or thin steel. All you have to do is draw your design on a computer, and you can have a completely custom part delivered as quickly as the next day! Once you have your design ready, it's easy to order a single copy, or large volumes.
With our custom part cutting service, you can quickly and economically create intricate designs that are too complex for creating by hand. You can cut smooth curves and even engrave text or logos onto your parts. The only restriction is that parts are flat, but you can make three-dimensional robots by combining multiple two-dimensional pieces. Of course, non-robot parts are welcome – our laser cutting service is great for anyone with a project requiring custom parts!
Even if you do not have access to a computer with the software necessary to draw your part, we might be able to draw your part for you.
Laser cutting pricing
$25 minimum order charge
No set-up fees
Discounted rates for larger orders
For a quote, please go to our quote request form.
Laser Cutting Materials and Capabilities
We can laser cut various thicknesses of plastics, woods, steel, paper, cloth, and more up to 47.5″ × 47.5″. We stock acrylic, ABS, POM (Delrin), styrene, birch plywood, stainless steel, and can quickly obtain many plastics through our suppliers. You can also ship us your materials.
We cannot laser cut thick metals, PVC, polycarbonate (Lexan), or carbon fiber, or any materials containing chlorine (please consider OSH Cut for metals that we cannot cut).
For more information, please see the following sections of our Custom Laser Cutting Guide:
For a quote, please go to our quote request form.
Steps for ordering laser-cut parts
You prepare CAD or other drawing files of your custom part (see the instructions for laser cutting file set up in the Custom Laser Cutting Guide for information on preparing your files).
You send us your designs via our quote request form.
We email you a quote within 1-2 business days (faster for expedited parts).
You order the parts through our web site. See our ordering information page for information on payment methods and shipping options.
We cut the parts and send them to you!