Overview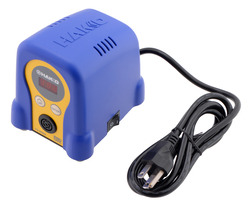 Hakko FX-888D station.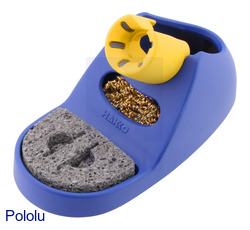 Hakko FX-888D Digital Soldering Station soldering iron and tip cleaner holder.
The Hakko FX-888D is a 65 W digital soldering station with adjustable temperature control and an integrated display. It is an updated digital version of the popular FX-888 soldering station and includes several new features, including user-selectable preset temperatures, digital calibration, a low-temperature alarm to help protect against cold solder joints, and optional password protection of the temperature setting to allow for process control. The soldering iron holder houses both a wet sponge and a brass wire sponge for cleaning the tip; since the brass is softer than the tip plating but harder than the oxidation that forms on the tip, this provides a great alternative for cleaning the tip that does not reduce the tip temperature and does not require water.
Features
Adjustable temperature control
70 W 120 VAC base station
Temperature range of 120 °F to 899 °F (50 °C to 480 °C)
Maintains idle temperature ±1.8 °F (1 °C) of set point when set to 400 °F to 899 °F (200 °C to 480 °C)
Digital display can show set temperature in Fahrenheit or Celsius
Low temperature alarm to help protect against cold solder joints
Ceramic heating element and sensor ensures rapid heat-up temperature and fast thermal recovery
Password protected temperature setting functionality
Preset modes allows you to store up to five preset temperatures
Compact design
ESD Safe
MET Laboratories NRTL safety approval
Soldering iron tips
Since the soldering iron tip can easily be swapped, it is useful to keep a variety of tips on hand and use the best tip for the job; it is also useful to have extras on hand as replacements. We carry chisel- and conical-type T18 soldering tips for the FX-888D in a variety of sizes:
Soldering iron features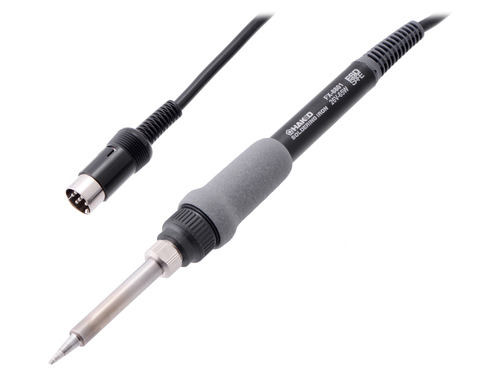 Hakko FX-8801 soldering iron included with the Hakko FX-888D Digital Soldering Station.
65 W 26 VAC soldering iron
Slender, lightweight ergonomic iron handle
Compatible with Hakko T18 series tips
Wide selection of tips available for SMD and through-hole applications
Includes standard 1.6 mm T18-D16 chisel tip
Less than 2 Ω tip-to-ground resistance
Less than 2 mV tip-to-ground potential
Ceramic heating element
190 mm (7.5″) iron length
1.2 m (4 ft) cord length
Included parts
70 W digital soldering station
FX8801-02 65 W soldering iron
FH800-01BY iron holder
A1559 cleaning sponge
A1561 tip cleaning wire
A printed instruction manual is included with this item and is also available as a downloadable PDF (2MB pdf).
This product is Hakko item number FX888D-23BY.
Note: This soldering iron is not a toy. The soldering tip becomes very hot during use. Children should only use the soldering iron with appropriate supervision and protection, such as safety glasses.