Overview
These wheels are great for robotics, custom RC vehicles, or any other project you need to get rolling. They measure 80 mm (3.15″) in diameter and are designed to press-fit securely onto D output shafts with a diameter of 3 mm. They are compatible with many of our gearmotors, including our micro metal gearmotors and our mini plastic gearmotors. Six mounting holes for #4 or M3 screws make it possible to use the wheel with any of our universal mounting hubs for those screw sizes, enabling these wheels to be used with our larger metal gearmotors and stepper motors. The slots in the six spokes fit #2 or M2 screws and allow additional accessories to be mounted to the wheel such as decorations or parts of an encoder system. The included silicone tires, which feature horizontal treads for improved traction, are also available separately.
The left picture below shows this wheel mounted to a 37D mm metal gearmotor with a universal mounting hub for 6mm shafts, and the right picture below shows this wheel mounted to a micro metal gearmotor.
| | |
| --- | --- |
| Black Pololu Wheel 80×10mm on a Pololu 37D mm Metal Gearmotor. | Black Pololu Wheel 80×10mm on a Pololu Micro Metal Gearmotor. |
Details for item #1430

Parts included with Pololu Wheel 80×8mm Pair – Black.
This is the black version of our 80×10mm wheel pair. These same-sized wheels are also available in red, yellow, blue, or white.
Other wheel options
We have similar wheels available in different sizes and colors:

Black Pololu Wheels with 90, 80, 70, 60, 40, and 32 mm diameters (other colors available).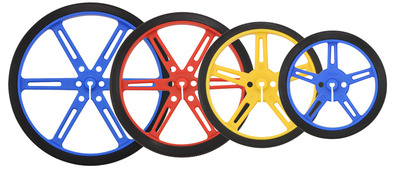 Pololu Wheels with 90, 80, 70, and 60 mm diameters in three colors: blue, red, and yellow.
We also have wheels this same size that use interchangeable collets to work with four different shaft types (3mm D, 3mm round, 4mm D, and 4mm round), and the collets also grip the shafts more tightly than similar press-fit wheels.
| | |
| --- | --- |
| Black 80×10mm Pololu Multi-Hub Wheel installed on a 4mm D-shaft. | White 80×10mm Pololu Multi-Hub Wheel installed on a 3mm D-shaft. |
| 80×10mm Pololu Multi-Hub Wheel installed on the 4mm D-shaft of a 20D metal gearmotor. | 80×10mm Pololu Multi-Hub Wheel installed on the 3mm D-shaft of a micro metal gearmotor. |