CUFFIA BLUETOOTH CON ASTUCCIO CARICA BATTERIA 800MAH
COD :
EG-478567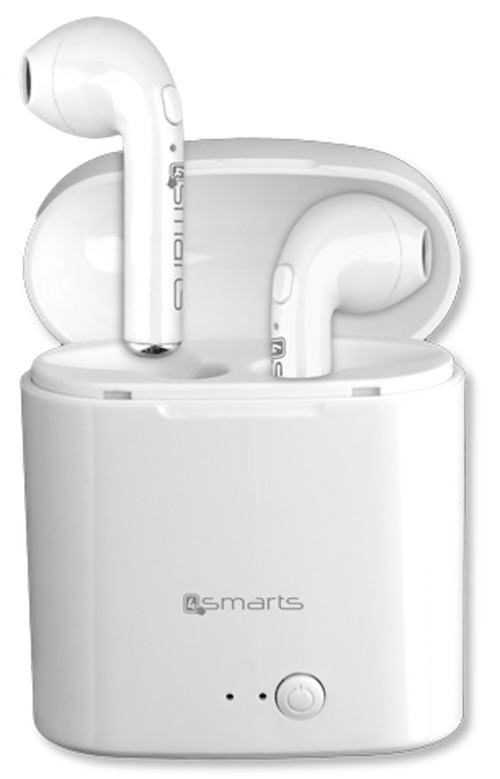 | | |
| --- | --- |
| 37,23 € | (excl. VAT) |
| 45,42 € | (incl. IVA) |
Disponibilità :

| | |
| --- | --- |
| | spedito in 3-7 giorni |
quantit&agrave disponibile:
1
Chiedi informazioni per questo prodotto (Ask a question about this product)
---
Wireless Headset Eara TWS
HEADSET WITH TRULY WIRELESS STEREO SOUND
Experience your music entirely new with the fully wireless headset Eara TWS. No strings attached!
Boundless flexibility, crystal clear music and over 12 hours of playback time for each tour:

The Eara TWS headset is not only completely wireless but also stands out because of its performance and comfort.

A low-priced alternative to the Apple AirPods!
FEATURES
Excellent sound quality without any annoying wires
Accurate voice reproduction when making a call
Soft and comfortable even after hours of use
Charging case with built-in 800mAh battery
Intelligent standby mode with over 120 hours of battery life
Optional silicone band for wearing the headphones around the neck included
Battery runtime when listening to music:  ~12 hours (incl. charging case)
Battery runtime per headphone: ~2 hours
Charging time: 2 hours
Compatible with devices supporting Bluetooth with the A2DP protocol.
ACER
Liquid Z6 Plus
Chromebook Tab 10

Alcatel
Idol 5s, 5, 4S, 4, 3 (5.5)
Pop 4+, 4S
1x, 3x, 3v, 5, 3c, A7, Pulsemix, Flash (2017), Shine Lite, Fierce 4, Pixi 4 (7.0 ), Pixi 4 (6.0 ), Go Play, One Touch Idol 3C, One Touch Go Play, A3, A30 Plus, A5 LED, A3 XL, U5 HD, A7 XL, U5

Apple
iPad Pro 12.9 (2018), Pro 11, 9.7 (2018), Pro 12.9 Zoll, Pro 10,5 Zoll, 9.7 (2017), Pro 9,7 Zoll, Pro 9,7 Zoll LTE, Pro 12,9 Zoll LTE
iPhone XR, Xs Max, Xs, X, 8, 8 Plus, 7 Plus, 7, SE, 6s Plus, 6s

Archos
Diamond Omega

Asus
ZenFone Live (L1) ZA550KL, ZB601KL Max Pro (M1), 5 ZE620KL, 5z ZS620KL, 5 Lite ZC600KL, 4 Pro (ZS551KL), 4 Selfie (ZD553KL), 4 Selfie Pro (ZD552KL), 4 Max (ZC520KL), 4 Max Plus (ZC554KL), 4 (ZE554KL), 4 Max (ZC554KL), AR (ZS571KL), 3 Zoom, 3 Deluxe ZS550KL, 3 Laser ZC551KL, 3 ZE520KL, 3 Ultra ZU680KL, 3 ZE552KL, 3 Deluxe ZS570KL
Zenpad 3S 10 Z500KL, Zenpad 3S 10 Z500M, ROG Phone

Benefon
P331

Blackberry
Key2 LE, Evolve X, Evolve, Key2, Motion, Keyone, DTEK60, Priv

BQ
Aquaris U2 Lite, V Plus, V, U2, X5 Plus

Cat
S61, S60, S30, S40

Caterpillar
Cat S30, Cat S40

Commodore
PET

coolpad
Torino S

Energizer
Power Max P600S

Essential
PH-1

General Mobile
GM 8, GM 5 Plus

Gigaset
GS 370 Plus, GS 370, GS270 Plus, GS270, ME Pure, ME Pro, ME

Gionee
M7 Plus, M7 Power

Google
Pixel 3, Pixel 3 XL, Pixel 2, Pixel 2 XL, Pixel XL, Pixel, Pixel C

Haier
Voyage V6, Voyage V4, L55S

Honor
View 20, 10 Lite, 8X, 8X Max, Note 10, Play, 7s, 10, 7C, 6C Pro, View 10, V10, 9 Pro, 9 lite, 7X, V9 Play, 6A, 8 Pro, V9, 8 lite, Magic, Magic, Pad 2, 6x (2016), 5, 8, 5A, V8, 7 lite (5c), 7 Premium, 5X, 7 Dual SIM, 7, 9

HP
Elite x3

HTC
Desire 12s, 12 Plus, 12, 10 Pro, 10 Lifestyle, 628, 830, 825, 530, 630, 728 dual SIM, 626
One X10, A9s, S9, M9 (Prime Camera Edition), X9, A9, M9s, E9s dual SIM, E9, E9+, M9
Exodus 1, U12 life, U12+, U11 Eyes, U11 Life, U11+, U11, U Ultra, Ocean Note, U Play, 10 evo, Bolt, 10 Lifestyle, 10, Butterfly 3

HTC / Google
Nexus 9 LTE, 9

Huawei
Ascend P8
Mate 20, 20 Pro, 20 X, 20 Lite, 10, 10 Pro, 10 Porsche Design, 10 Lite, 9, 9 Porsche Design, 9 Pro, 8, S
MediaPad M5 lite 10, T5 10, M5 10, M5 10 (Pro), M3 8.4, T2 10.0 Pro, M2 10.0 LTE, M5 8
Y6 Pro (2019), Y7 Prime (2019), Y7 Pro (2019), P Smart (2019), nova 4, Enjoy 9, Y9 (2019), P smart+ / Nova 3i, Nova 3, Y5 Prime (2018) / Y5 (2018), Y6 (2018), P20 Lite, P20 Pro, P20, Y7 (2018) / Y7 Prime (2018), P Smart, Nova 2s, Y6 Pro 2017, P9 Lite mini, Y7 Prime, Nova 2, Nova 2 plus, P10 Lite, Nova Lite, P9 Lite (2017), GR3 (2017), Nova plus, Nova, Y6II Compact, G9 Plus, P9 Plus, P9 Lite, P9, GT3, Y6 Dual SIM, Y5 Dual SIM, Y6, Y5, P8, Y625, MateBook, GR5, P10 Plus, P10, Y6 Prime (2018)

Huawei / Google
Nexus 6P

ID2ME
ID1

Kyocera
DuraForce PRO

LeEco
Le Pro3 Elite, Le S3, Le Pro3, Le Max 2, Le 2 Pro, Le 2, Le 1s, Le Max

Lenovo
Moto Tab
S5 Pro GT, Z5s, Z5, Black Shark, S5, K5 Play, K320t, K8, K8 Note, Tab 4 10, Tab 4 8, Tab 4 10 Plus, Tab 4 8 Plus, ZUK Edge, K6, P2, K6 Power, K6 Note, ZUK Z2, Yoga Tab 3 10 LTE (Android), Yoga Tab 3 10 (Android), Vibe X2

Lenovo/Motorola
Moto G7 Plus, G7 Play, G7, G7 Power, Z3 Play, E5, E5 Play, X4, G5S, Z2 Force, G5S Plus, Z2 Play, C, E4 Plus, C Plus, E4
One Power (P30 Note), One (P30 Play)

LG / Google
Nexus 5X

LG Electronics
Zone 4
G8s ThinQ, V50 ThinQ 5G, G8 ThinQ, Q60, K40, K50, Q9, V40 ThinQ, Q8, G7 One, G7 Fit, V35 ThinQ, G7 ThinQ, Q7, Aristo 2, K10 (2018), K8 (2018), X4+, V30, Q8 (2017), Q6, G Pad IV 8.0 FHD, X venture, G6, X power2, K10 (2017), K4 (2017), Stylus 3, K8 (2017), K3 (2017), G Pad III 10.1 FHD, U, K3, X Skin, X5, G Pad X 8.0, Stylo 2, G5, X cam, X screen, K5, K7, G5 SE, K4, K10, V10, Class, G4 Beat, G4s, G4 Stylus LTE, G4c, G4 Stylus 3G, G4, Spirit 4G, Leon 4G, Spirit, Leon, G Flex 2, Stylus 2, WineSmart, Stylus 2 DAB+, G Pro 3

Marshall
London

Meizu
Pro 7, 7 Plus, 6 Plus, 5 Mini
15 Lite, 15 Plus, 15, E3, Pro 7, M6 note, E2, M3X, M3 Max, MX6

Microsoft
Lumia 650, 950 XL, 950 Dual SIM, 950

Motorola
Moto C Plus, G5, G5 Plus, M, G4 Play
Moto X Force, Moto X Style, Moto Maxx, Google Nexus 6

Nokia
3.2, 1 Plus, 9 PureView, 4.2, 8.1, 7.1 Plus, 3.1 Plus, 7.1, 5.1 Plus, 2.1, 3.1, 5.1, 6.1 Plus, 6.1, 8 Sirocco, 7 Plus, 8110 4G, 2, 7, 8, 3, 5, 6

OnePlus
6, 5T, 3T, 3, 2, 5

Oppo
A3s, A5, Find X, R15 Plus, R15, A71 (2018), A77, F3 Plus, A57

Panasonic
Panasonic Toughbook CF20

Philips
CTX818CP/58

Razer
Razer-Phone

Samsung
Galaxy On6, C7 (2017), J7 Pro, Xcover 4, C5 Pro, C7 Pro, Grand Prime Plus, C9 Pro, C5, Book 12
Galaxy A-Series A50, A6s, A9 (2018), A7 (2018), A8 Star, A6+ (2018), A6 (2018), A8+ (2018), A8 (2018), A7 (2017), A5 (2017), A3 (2017), A8 (2016), A9 (2016), A5 (2016), A3 (2016), A7 (2016)
Galaxy J-Series J4+, J6+, J3 (2018), J7 (2018), J4, J7-Duo, J2 Pro (2018), J2 (2017), J7 Max, J7 (2017), J3 (2017), J5 (2017), J7 V, J3 Emerge, J2 Prime, J5 Prime, J7 Prime, J2 Pro, J3 Pro, J7 (2016), J3 (2016), J1 (2016), J2, J6
Galaxy M-Series M10, M20
Galaxy Note 9, 8, FE, Note 5, Note Edge, Note 4
Galaxy On-Series On7 (2016), On8, On7 Pro, On5 Pro, On5, On7
Galaxy S-Series S10+, S10, S10 5G, S10e, S9, S9+, S8 Active, S8+, S8, S7 active, S7 edge, S7, S6 Edge Plus, S6 active, S6, S6 edge
Galaxy Tab A 10.1 (2019), S5e, S4, A 10.5, S3 9.7, A 10.1 (2016), Pro S, Pro S LTE, S2 9.7 WiFi, S2 8 LTE, S2 9.7 LTE, A 9.7 WiFi, A 9.7 LTE, Tab A 8.0 (2017)
Galaxy A8s

Sharp
Aquos S2

Sony
Xperia 1, 10, L3, 10 Plus, XZ3, XA2 Plus, XZ2 Premium, XZ2 Compact, XZ2, XA2, XA2 Ultra, R1 (Plus), XZ1, XZ Premium, XA1, L1, XZs, XZ, E5, X Performance, XA Ultra, X, XA, M5, Z5 Premium, Z5, M5 Dual, Z5 Compact, Z3+, M4 Aqua, Z4 Tablet, Z4 Tablet LTE, E4, C4, C5 Ultra, X Compact, XZ1 Compact, XA1 Ultra, XA1 Plus

Ulefone
Mix

Umidigi
Z1

Vertu
New Signature Touch

Vivo
NEX Dual Display, Z1i, V9 6GB, Z1, NEX S, X21, Y71, V9, X21 UD, X20 Plus UD, X20 Plus, V7+

Vodafone
Tab Prime 7, Smart Ultra 7, Smart Prime 7, Tab Prime 6

Wiko
View-Series 2, View 2 Pro, View Prime, View XL, View
Wim, U Feel Prime

Wileyfox
Spark +, Spark X

Xiaomi
Redmi Go, Note 6 Pro, 6A, 6 Pro, 6, S2, Note 5 Pro, 5 Plus, 5, Y1, Y1 Lite, Note 5A, 4x, 4x, Note 4X, 4 Prime, 4a, 4, Note 3, 3, Note 2 Prime, Note 2
Mi Play, Mi Mix 3, Black Shark Helo, , Mi 8 Pro, Mi 8 Lite, Pocophone F1, Mi Pad 4 plus, Mi 8 Explorer, Mi Max 3, Mi 8 SE, Mi 8, Mi A2 lite (Redmi 6 Pro), Mi A2 (Mi 6X), Black Shark, Mi Mix 2s, Mi A1 (5X), Mi Mix 2, Mi Note 3, Mi 5X, Mi Max 2, Mi Pad 3, Mi 6, Mi 5c, Mi Note 2, Mi Mix, Mi 5s, Mi 5s Plus, Mi 5, Mi 4i, Mi Pad 2

YU
Yunicorn, Yutopia

ZTE
Axon M, 7s, 7 Mini, 7, Mini Premium Edition
Blade V9, V9 Vita, A3, X, A602, Force, A6, V8 Lite, A520, V8 Mini, V8 Pro, V8, A601, A610, V7 Lite, Z Max
Nubia Red Magic, Z18 mini, N3, V18, Z17S, Z17 miniS, Z17 lite, Z17, M2, Z17 mini, N1 lite, Z11 Mini S, N1, Z11 Max, Z11 Mini, Z9 Max
Tempo Go, Tempo X, Grand X View 2, Maven 2, Max XL, Hawkeye

ZUK
Z1
Spedizioni

24h/48h/72h


Spedizioni in tutto il mondo
con tariffe ridotte
Info line
orario continuato
dal lunedì al venerdì
10:00-16:00


(0039) 06 76971136
Le informazioni riportate su robot-domestici.it possono essere soggette a modifiche senza preavviso, alcune immagini sono a titolo indicativo.
Tutti i marchi citati sono di proprietà delle rispettive case.
ROBOT DOMESTICI INDUSTRIES di ARMANDO PALIANI - Via Cornelio Labeone, 76 - 00174 Roma (RM)
P.I. IT12960231004 - C.F. PLNRND74R03G763Q - REA di Roma n. RM 1413309
CODICE UNIVOCO PER LA FATTURAZIONE ELETTRONICA: KRRH6B9
Telefono 06 76971136 - Fax 06 62283886