Pycom WiPY 3.0 Without Headers
COD : SF-WRL-15190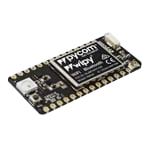 A small, space conscious development board for the Pycom MicroPython enabled enterprise level system in package based on the ESP32 chipset featuring both WiFi and Bluetooth connectivity. The board features both a chip antenna and u.FL connector for longer wireless range in addition to an on board button and Tri-Color LED. This particular variation of the board does not come with headers, rather bare plated-thru-hole vias allowing the user to connect their own wires or breadboard standard spaced headers (0.1 inch). A perfect IoT development board for those looking to program in MicroPython.
The 3.0 variation features the following upgrades:
Deep sleep current draw fixed, now only 19.7µA
Upgraded RAM from 512KB to 4MB
Upgraded External FLASH from 4MB to 8MB
Antenna select pin moved from GPIO16 to GPIO21 (P12)
For more information, check out the Features tab and Datasheet in the Documents Tab.
Features:
Features
Powerful CPU, BLE and state of the art WiFi radio
1KM WiFi range
MicroPython enabled, the Linux of IoT for fast deployment
Fits in a standard breadboard (with headers)
Ultra-low power usage: a fraction compared to other connected micro controllers
Processing
Espressif ESP32 chipset
Dual processor WiFi radio system on chip
Network processor handles the WiFi connectivity and the IPv6 stack
Main processor is entirely free to run the user application
An extra ULP-coprocessor that can monitor GPIOs, the ADC channels and control most of the internal peripherls during deep-sleep mode while only consuming 25uA
Interfaces
2 x UART, 2 x SPI, I2C, I2S, micro SD card
Analog channels: 8_12 bit ADCs
Timers: 4_16 bit with PWM and input capture
DMA on all peripherals
GPIO: Up to 24
Documents:
Immagini
Le informazioni riportate su robot-domestici.it
possono essere soggette a modifiche senza preavviso, alcune immagini sono a titolo indicativo.
Tutti i marchi citati sono di proprietà delle rispettive case e produttori.

Sede legale
ROBOT DOMESTICI INDUSTRIES di ARMANDO PALIANI - Via Cornelio Labeone, 76 - 00174 Roma (RM)
P.I. IT12960231004 - C.F. PLNRND74R03G763Q - REA di Roma n. RM 1413309
CODICE UNIVOCO PER LA FATTURAZIONE ELETTRONICA: KRRH6B9
Telefono 06 76971136