FiPy- IoT development board
COD :
SE-102990843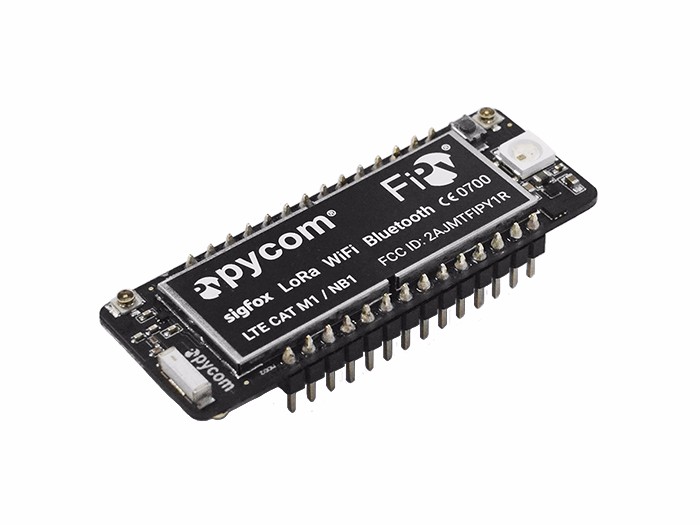 | | |
| --- | --- |
| 63,99 € | (excl. VAT) |
| 78,07 € | (incl. IVA) |
Disponibilità :

| | |
| --- | --- |
| | spedito in 3-7 giorni |
quantit&agrave disponibile:
26
Chiedi informazioni per questo prodotto (Ask a question about this product)
---
Imagine 5 networks in one perfectly-formed, same-small-foot-print-as WiPy and LoPy, IoT development board. MicroPython enabled. FiPy includes WiFi, Bluetooth, LoRa, Sigfox and dual LTE-M (CAT M1 and NBIoT) the FiPy gives access to all the world's LPWAN networks on one tiny board.
Get on with a board that gives you full flexibility during testing, install, deployment and even later when you want to switch real-time your airtime network provider. You can switch when the time is right for you or set some parameters that will do so automatically.
FiPy Features
Powerful CPu

Five networks: WiFi, BLE, cellular LTE-CAT M1/NB1, LoRa and Sigfox

1KM WiFi range

MicroPython enabled

Fits in a standard breadboard (with headers)

Ultra-low power usage: a fraction compared to other connected microcontrollers
Specifications
Processing
Espressif ESP32 SoC

Dual processor and WiFi radio system on chip

Networking processor handles the WiFi connectivity and the IPv6 stack

Main processor is entirely free to run the user application

An extra ULP-coprocessor that can monitor GPIOs, the ADC channels and control most of the internal peripherals during deep-sleep mode while only consuming 25uA
Interfaces
2 x UART, 2 x SPI, I2C, micro SD card

ANalog channels: 8×12 bit ADCs, 2×8 bit DAC

Timers: 2×64 bit with PWM with up to 16 channels

DMA on all peripherals

GPIO: Up to 22
Hash / Encryption
WiFi Networking
Bluetooth
RTC
Range
Security & Certifications
SSL/TLS support up to 1.2

WPA Enterprise security

AES encryption engine
Memory
RAM: 4MB

Flash Memory: 8MB

GPIO: Up to 22

Hardware floating point acceleration

Python multi-threading
Power
Voltage Input: 3.3V – 5.5V

3v3 output capable of sourcing up to 400mA
Pycom modules are powered by the NEW and FEATURE PACKED Espressif ESP32 chip. As a result our firmware is evolving constantly as the ESP32 IDF matures. Regular firmware updates are therefore provided.
Documents
Spedizioni

24h/48h/72h


Spedizioni in tutto il mondo
con tariffe ridotte
Info line
orario continuato
dal lunedì al venerdì
10:00-16:00


(0039) 06 76971136
Le informazioni riportate su robot-domestici.it possono essere soggette a modifiche senza preavviso, alcune immagini sono a titolo indicativo.
Tutti i marchi citati sono di proprietà delle rispettive case.
ROBOT DOMESTICI INDUSTRIES di ARMANDO PALIANI - Via Cornelio Labeone, 76 - 00174 Roma (RM)
P.I. IT12960231004 - C.F. PLNRND74R03G763Q - REA di Roma n. RM 1413309
CODICE UNIVOCO PER LA FATTURAZIONE ELETTRONICA: KRRH6B9
Telefono 06 76971136 - Fax 06 62283886