MilCandy - the Easiest Grove Controller
COD :
SE-ARD269D2P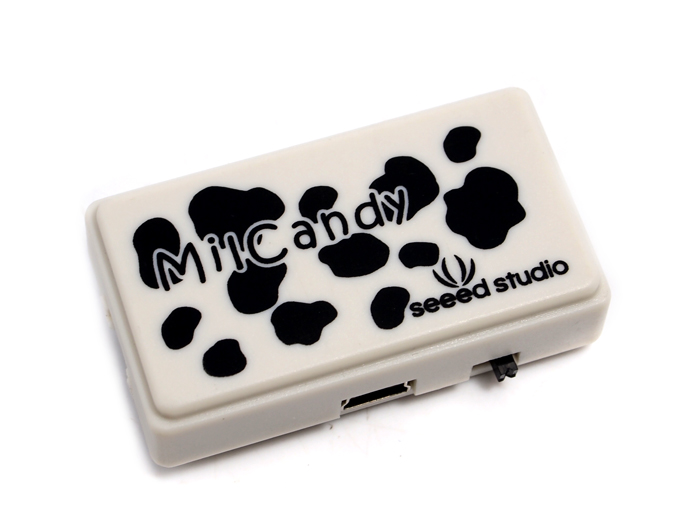 Chiedi informazioni per questo prodotto (Ask a question about this product)
---
The MilCandy could be the easiest controller to manipulate your physical world. It s an all-in-one design with cost and convenience in mind. It enables accomplishing simple AI tasks by plug-in sensor, actuator, and setting the triggering pattern via a few button clicks. Its Arduino based open source firmware could be updated for more complex logic.
Features
Ships with Set-Trigger Firmware 
Arduino compatible
Grove interface for sensors and actuators 
On-board LED indicator and light sensor
All-in-one design with LiPo battery and enclosure 
Cost efficient
Tiny and light 
Programming Diagram
| | |
| --- | --- |
|                      Module name |         Parameter to measure  |
|   Grove– Button |   On/Off |
|   Grove-Electricity Sensor  |   Electricity |
| Â  Grove-Gas Sensor(MQ2&MQ5) | Â  Gas Quality |
| Â  Grove-Light Sensor | Â  Light |
| Â  Grove- Magnetic Switch | Â  Magnetic |
| Â  Grove- Moisture Sensor | Â  Moisture |
| Â  Grove- PIR Motion Sensor | Â  PIR Motion |
| Â  Grove- Rotary Angle Sensor | Â  Rotary Angle |
| Â  Grove- Tilt Switch | Â  Object Position |
| Â  Grove- Sound Sensor | Â  Sound |
| Â  Grove- Temperature Sensor | Â  Temperature |
| Â  Grove- Touch Sensor | Â  Human touch |
| Â  Grove- Water Sensor | Â  Water |
Spedizioni

24h/48h/72h


Spedizioni in tutto il mondo
con tariffe ridotte
Info line
orario continuato
dal lunedì al venerdì
10:00-16:00


(0039) 06 76971136
Le informazioni riportate su robot-domestici.it possono essere soggette a modifiche senza preavviso, alcune immagini sono a titolo indicativo.
Tutti i marchi citati sono di proprietà delle rispettive case.
ROBOT DOMESTICI INDUSTRIES di ARMANDO PALIANI - Via Cornelio Labeone, 76 - 00174 Roma (RM)
P.I. IT12960231004 - C.F. PLNRND74R03G763Q - REA di Roma n. RM 1413309
CODICE UNIVOCO PER LA FATTURAZIONE ELETTRONICA: KRRH6B9
Telefono 06 76971136 - Fax 06 62283886