Breakout for LinkIt Smart7688
COD :
SE-103100002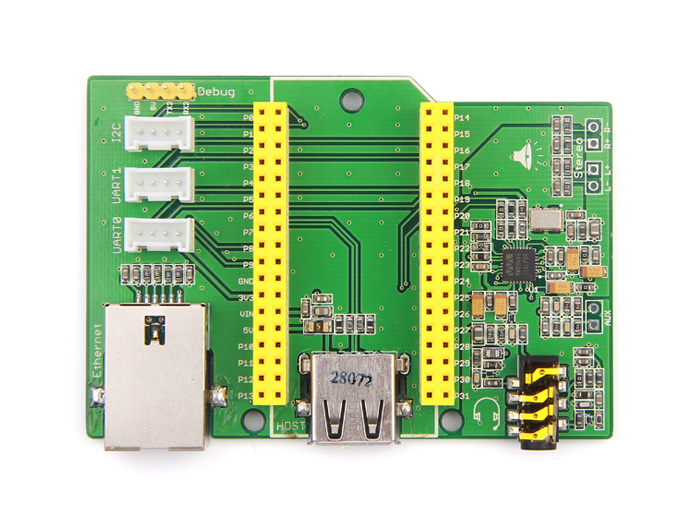 Chiedi informazioni per questo prodotto (Ask a question about this product)
---
Please consider Breakout for LinkIt Smart 7688 v2.0 as alternative product.
Breakout for LinkIt Smart 7688 is a Grove port integrated expansion board for LinkItTM Smart 7688 development board. This breakout board will save a lot of work and makes prototyping easier through simplified wiring. It will assist a beginner to get started fast. It supports serial buses like I2C, UART. It comes with USB, Ethernet and 3.5mm Audio ports.
LinkIt Smart 7688 (a compact controller board) is an open development board, based on the OpenWrt Linux distribution, MT7688. The board is designed especially to enable the prototyping of Rich IoT Application for Smart-Home.
3.5mm headphone Jack(with Mic) for multimedia
1 x Ethernet to connect to internet
1 x USB 2.0 for more peripherals
Grove interface: 2 x UART, 1 x I2C
Stereo and AUX are supported
Input voltage: 5.0V (With USB Power port)
Operating voltage: 3.3V
Debug pins, Ethernet pins and USB type-A host pins connect with MT7688


Demo –Smart WiFi Audio


It is a WiFi Audio which allows your mobile phone to connect to its WiFi and play the music in your phone. If you connect the Linklt Smart 7688 to your Router, the Audio will show the IP on the Grove RGB Backlight LCD, and also the song title.
Learn more at our Recipe.
Documents
Please visit our Wiki page for more info about this product. It will be highly appreciated if you can help improve the documents, add demo codes or tutorials. For technical support, please post your questions to our Forum.
Spedizioni

24h/48h/72h


Spedizioni in tutto il mondo
con tariffe ridotte
Info line
orario continuato
dal lunedì al venerdì
10:00-16:00


(0039) 06 76971136
Le informazioni riportate su robot-domestici.it possono essere soggette a modifiche senza preavviso, alcune immagini sono a titolo indicativo.
Tutti i marchi citati sono di proprietà delle rispettive case.
ROBOT DOMESTICI INDUSTRIES di ARMANDO PALIANI - Via Cornelio Labeone, 76 - 00174 Roma (RM)
P.I. IT12960231004 - C.F. PLNRND74R03G763Q - REA di Roma n. RM 1413309
CODICE UNIVOCO PER LA FATTURAZIONE ELETTRONICA: KRRH6B9
Telefono 06 76971136 - Fax 06 62283886