Turnigy MultiStar 30A BLHeli-S Rev16 V3 ESC 2~6S (Opto)
COD : HK-9351000088-0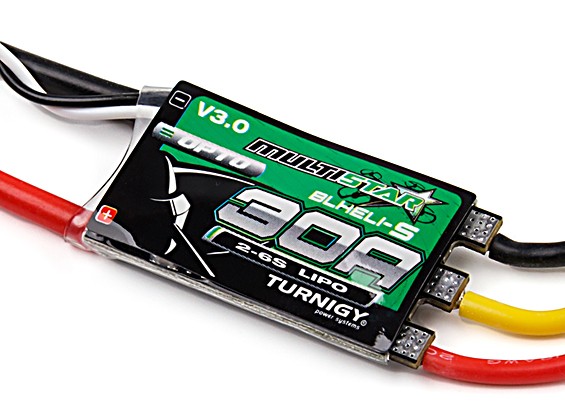 Turnigy MultiStar BLHeli-S Rev16 ESC's are the latest generation of speed controllers designed specifically for multirotors (drones). They are super simple to install and very easy to set up. 

These ESC's have superior performance and utilise hardware generated motor PWM for smooth throttle response. Another feature of these ESC's is Oneshot125 which is a faster communication protocol between the flight controller and the ESC on your multirotor. It allows the flight controller to send commands to the motor quicker allowing faster acceleration, regenerative braking and active freewheeling.

The BLHeli-S Rev16 30A has masses of programming parameters (see the list below) and can be programmed easily from your transmitter or using the MultiStar programming card. The ESC comes pre-tinned and solder ready, all you need to do is solder the supplied wires to the ESC and then add the plugs/sockets of your choice. With its small lightweight design, these ESC's will have you racing faster without breaking the bank.
This is the upgraded 30A version, it is slightly larger but is capable of handling up to 6S.
These ESCs can be flashed with the latest DShot150 and DShot300 firmware.

Features:
• Small and lightweight (only 15.8g)
• S code for superior performance
• Smooth and linear control
• Oneshot125 for rapid throttle response
• Compatible with DShot150 and DShot300 firmware
• Regenerative braking
• Active freewheeling
• Beacon functionality
• Stalled motor protection
• Throttle signal loss protection
• Safe power-on (throttle lockout)
• Thermal protection

Programming Parameters:
• Startup power
• Commutation timing
• Demag compensation
• Rotation direction
• Beep strength
• Beacon strength
• Beacon delay
• Throttle range
• Thermal protection
• Low RPM power protection
• Brake
• LED control

Specs:
Constant Current: 30A
Peak Current: 35A
Input Voltage: 2~6S (7.4~22.2V)
BEC: None
Dimensions: 35 x 19mm
Weight: 15.8g
Ultimo Aggiornamento: 07/08/2020 17:56
Immagini
Le informazioni riportate su robot-domestici.it
possono essere soggette a modifiche senza preavviso, alcune immagini sono a titolo indicativo.
Tutti i marchi citati sono di proprietà delle rispettive case e produttori.

Sede legale
ROBOT DOMESTICI INDUSTRIES di ARMANDO PALIANI - Via Cornelio Labeone, 76 - 00174 Roma (RM)
P.I. IT12960231004 - C.F. PLNRND74R03G763Q - REA di Roma n. RM 1413309
CODICE UNIVOCO PER LA FATTURAZIONE ELETTRONICA: KRRH6B9
Tel. (+39) 06 76971136 | e-mail: info@robot-domestici.it