TeraRanger OSD
COD :
TB-TROSD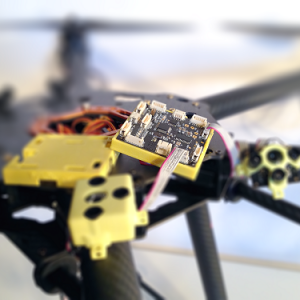 Chiedi informazioni per questo prodotto (Ask a question about this product)
---
Dim lights Embed Embed this video on your site
DESCRIPTION
This on-screen display for TeraRanger One shows distance values from up to eight sensors directly on your controller screen at the same time as your live video feed. A graphical user interface allows you to choose where on your screen to display the values, allowing you to place the data according to your choice and other OSD data that you may already be displaying. You can also set-up off-set distances and threshold distances. When a threshold distance is breached the distance data for that sensor will display in a flashing mode until the threshold has been re-established. This visual warning system is perfect for precision drone flight in close proximity to obstacles and for complex landings.
Supports NTSC and PAL video formats, with analog video in and out. Dimensions: 56 x 56 x 14mm. Weight: 25g with case, 15g without case.
NB: The video has been made using a first prototype of the TeraRanger One "outdoor" sensor showing a 14m range in outdoor conditions. The video should not be taken as an example of the outdoor range available with a standard TeraRanger One sensor.
TECHNICAL FEATURES

Design, Dimensions and Weight:
– Design Options:  Use with or without the included case. 2 mounting holes for M2.5 screws.
– Size:  56 x 56 x 14mm (with case)
– Weight:  15g without the case, 25g with the case
Performance:
– Supply voltage:  10­-20V DC (10-15V advised)
– Supply current:  60mA (+40mA*number of connected TeraRanger One sensors) @12V in general environment, 130mA worse case situations
Interfaces:
– Eight TeraRanger One ports to connect up to eight sensors
– Micro-USB (2.0) for firmware updates and product configuration
IDEAL FOR:
In the box:
- OSD board with plastic case (removable to save weight)
- power cable with open ends
- one cable to connect TeraRanger One to the OSD board (22cm)
- micro USB cable
Configuration software and manual available from the forum at ask.teraranger.com (download section).
Spedizioni

24h/48h/72h


Spedizioni in tutto il mondo
con tariffe ridotte
Info line
orario continuato
dal lunedì al venerdì
10:00-16:00


(0039) 06 76971136
Le informazioni riportate su robot-domestici.it possono essere soggette a modifiche senza preavviso, alcune immagini sono a titolo indicativo.
Tutti i marchi citati sono di proprietà delle rispettive case.
ROBOT DOMESTICI INDUSTRIES di ARMANDO PALIANI - Via Cornelio Labeone, 76 - 00174 Roma (RM)
P.I. IT12960231004 - C.F. PLNRND74R03G763Q - REA di Roma n. RM 1413309
CODICE UNIVOCO PER LA FATTURAZIONE ELETTRONICA: KRRH6B9
Telefono 06 76971136 - Fax 06 62283886