NEO6 Plane/Rover/Boat GPS with Compass
COD :
JD-NEO6PRBGPS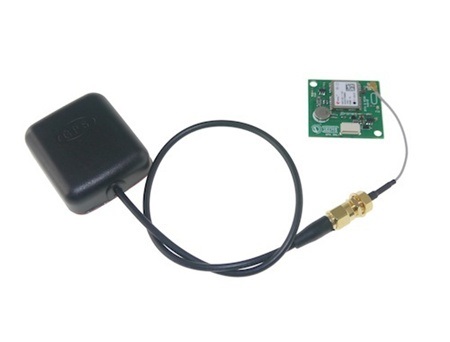 Chiedi informazioni per questo prodotto (Ask a question about this product)
---
Our high quality GPS module, now upgraded to include an external compass. This is a custom made GPS module for planes, rovers and boats using Pixhawk with ArduPlane / ArduRover / ArduBoat. It utilizes NEO6 modules and a waterproof high gain antenna. High accuracy HMC5983 compass with I2C level converters, filtering and LDOs are installed on board to make it a convenient packet. Pixhawk detects automatically the external compass and starts using it. External compass is always more accurate than internal due to magnetic interference inherent in internal compasses.
The GPS uses a custom made jDrones active pach antenna that has internal amplifier and SAW filters to give the best accuracy for GPS signal reception. The antenna is waterproof, has 30 cm connection cable and strong 3M double-side tape for easy mounting outside your vehicle. You can easily mount the antenna on top of wing or some other part of your vehicle's body.
With this module you will get a really accurate position hold, GPS location information, and heading from the compass. This jDrones NEO6 GPS module with compass is what we currently use for all our high end devices. 
If you need a GPS for a multicopter, 
please have a look at our jDrones NEO6 Multicopter GPS with Compass
u-blox 6 position engine:

Navigate down to

–

162 dBm and

–

148 dBm coldstart

Faster acquisition with AssistNow Autonomous

Configurable power management

Hybrid GPS/SBAS engine (WAAS, EGNOS, MSAS)

Anti-jamming technology

OMA SUPL compliant

Backward compatible (hardware and firmware); easy

migration from NEO-5 family or NEO-4S

Based on GPS chips qualified according to AEC-Q100

Manufactured in ISO/TS 16949 certified sites

LCC package for reliable and cost effective manufacturing

Operating temperature range:

–

40°C to 85°C

EM406 style connector with 38400 bbs UART connection

Backup battery

I2C memory for settings
Waterproof antenna

Active Patch antenna: 28 x 28 mm

Frequency: 1575.42 Mhz

Noise figure: < 1.5 dBi

LNA Gain: 28dBi

IPEC connector with 10 cm cable

Detachable from main module
jDrones uBlox NEO6 module with compass for Airplane/Rover/Boat use

Waterproof active patch GPS antenna, cable 30cm with SMA connector

IPEX/SMA connection cable, 70mm
---
Altre immagini

Spedizioni

24h/48h/72h


Spedizioni in tutto il mondo
con tariffe ridotte
Info line
orario continuato
dal lunedì al venerdì
10:00-16:00


(0039) 06 76971136
Le informazioni riportate su robot-domestici.it possono essere soggette a modifiche senza preavviso, alcune immagini sono a titolo indicativo.
Tutti i marchi citati sono di proprietà delle rispettive case.
ROBOT DOMESTICI INDUSTRIES di ARMANDO PALIANI - Via Cornelio Labeone, 76 - 00174 Roma (RM)
P.I. IT12960231004 - C.F. PLNRND74R03G763Q - REA di Roma n. RM 1413309
CODICE UNIVOCO PER LA FATTURAZIONE ELETTRONICA: KRRH6B9
Telefono 06 76971136 - Fax 06 62283886