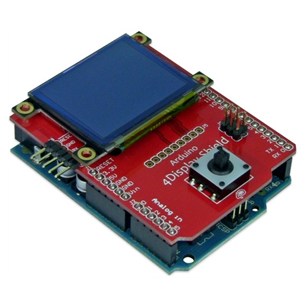 The 4Display-Shield-160 provides an easy way of interfacing the popular uOLED-160-G1 display module to the Arduino-Duemilanove, the Arduino-Mega and many other Arduino compatible boards.
The unit comes complete with the uOLED-160-G1 module, a 5 way multiswitch joystick and male headers that help connect the 4Display-Shield to the Arduino boards.
The 5 position joystick is connected to the Arduino D2, D3, D4, D5 and D6 pins. The communication interface between the 4Display-Shield and the Arduino is via the Serial UART. Both the TX and RX signals are jumpered on the shield PCB so that the Arduino UART can be freed-up when it's being programmed.
The uOLED-160-G1 module is integrated with a 1.7" full color 160x128 pixel resolution OLED screen, tiny yet powerful GOLDELOX graphics controller chip and a micro-SD connector which supports standard and high-capacity memory cards. The memory card can be used to store images, icons, video clips and data logging.
4Display-Shield-160 features:
160 x 128 resolution, 65K true to life colors, PMOLED screen.
1.7" diagonal size, Viewing Area: 33.6mm x 27mm.
No back lighting with near 180° viewing angle.
On-board micro-SD memory card adaptor for storing of icons, images, animations, etc. Supports standard and high capacity (HC-SD) memory cards.
5-Way multifunction Joystick switch directly connected to Arduino D2, D3, D4, D5 and D6 pins.
Powered from the Arduino board, uses the 5V supply pin.
RoHS Compliant.
DOCUMENTS