FOX BOARD G20
| | |
| --- | --- |
| 164,89 € | (excl. VAT) |
| 201,17 € | (incl. IVA) |
Chiedi informazioni per questo prodotto (Ask a question about this product)
---
FOX Board G20 is Single Board Computer built around the Atmel AT91SAM9G20 microcontroller based on a 400Mhz ARM9 CPU
The main fields of application are:
Solid-state web servers, gateways, etc.
OEM embedded devices enhanced with Internet connectivity and Linux flexibility
Thousands of applications can be easily installed on the FOX Board G20 thanks to the ARM9 version of the most popular Linux distributions likes Debian, Gentoo, OpenWRT, OpenEmbedded. 
Full support to any programming language (C, C++, Python, Perl, Java, PHP, Tcl, Basic, Fortran, etc.).
Two 40 pin sockets pich 2.54mm are available to plug the board on specific application carriers or add-on boards. On these pins 3.3 Volt signals are available which can be used to implement RS232/RS485/RS422, I2C, SPI, GPIO, A/D and PWM interfaces.
CARATTERISTICHE
Built on the Atmel ARM9 @ 400Mhz CPU module Netus G20
64MB of RAM, 8MB of flash 256KB of flash
Up to 16GB on bootable microSD (*)
Two USB 2.0 host ports (12 Mbits)
One Ethernet 10/100 port
One USB device port (12 Mbits)
One debug serial port (3.3v)
Two serial ports (3.3v)
One serial port for 4DSystems oLed displays
5VDC power supply input (compatible with PS5V1A)
Real Time Clock with on-board backup battery (**)
GPIO lines (3.3v)
4 A/D converter lines
I2C
SPI
Built-in quad power supply Netus PS1 module
Same footprint and pinout of the old FOX Board LX832
Fully mechanical compatible with TUXCASE and FOXCASE


Temperature range: -15 to +70 Celsius degree (°C)
Average power consumpiom: 80 mA @ 5V (0.4 Watt) without microSD, ethernet link, USB devices or other peripherals.
(*) the microSD card memory is optional 
(**) the lithium backup battery for RTC is optional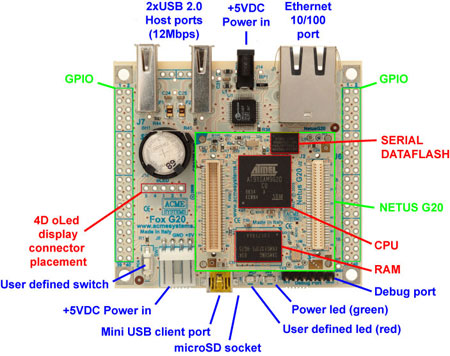 DOCUMENTI E LINK UTILI
Daisy is a new cabling method reducing development time of equipment based on both FOX Board G20 and Netus G20 boards. 
The basic idea is to be able to wire on-field interfaces onto the NetusG20 module faster, using plugged instead of welded cables.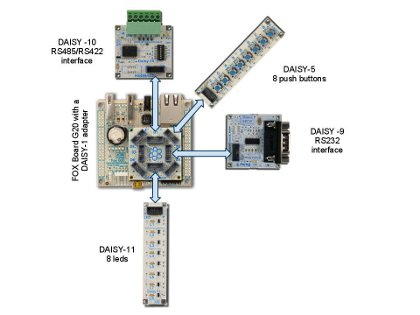 ---
Altre immagini


Il carrello è vuoto.
Spedizioni

24h/48h

Spedizione sempre assicurata
da 8,99 €


Spedizioni in tutto il mondo
con tariffe ridotte
Info line
orario continuato
dal lunedì al venerdì
10:00-18:00


(0039) 06 45595201
Le informazioni riportate su robot-domestici.it possono essere soggette a modifiche senza preavviso, alcune immagini sono a titolo indicativo.
Tutti i marchi citati sono di proprietà delle rispettive case.
FLENDER S.R.L. Via dei Colli Albani, 34, 00179 Roma (RM)
Telefono 06 45595201 - Fax 06 62287055 - P.I. 10683091002 REA di Roma n. RM1248831 - Cap.Soc. 100.000,00 euro
XHTML and CSS.